A Plant Tour for MPEI Students
On 14 November 2017, Izolyator arranged a tour of the plant for students of MPEI National Research University.

National Research University "Moscow Power Engineering Institute" (MPEI) trains the Bachelors, Masters and Specialists (Engineers) in 15 directions and 73 specialties. MPEI is the one from the largest technical universities of Russia. It provides the specialist's training and scientific research in the field of energetic, electrical engineering, radio electronics, computer engineering. MPEI has the modern educational buildings, the academic and scientific laboratories, the students' hostels, the powerful experimental facilities, a pilot-plant, an academic-research heat and power plant, an university technical park.
Professor Sergey Serebryannikov, Physics and electrical materials and components technology Chair at MPEI.
These Izolyator colleagues gave the class and the tour:
Alexander Slavinsky, Chairman of the Board of Directors;
Victor Kiryukhin, Lead Specialist Technical Governance.
During the class at Izolyator plant, the students visited the corporate museum and learned about designs and key production stages of high-voltage bushings.
Izolyator is a leading science and technology partner to the Russian National Committee of CIGRE (RNC CIGRE). Alexander Slavinsky heads Study Committee D1 RNC CIGRE Materials and Emerging Test Techniques.
The company's facilities allow making 12 thnd high-voltage bushings annually. The company gradually expands its product range by introducing brand new high-voltage bushings designs, upgrades and modernization of products.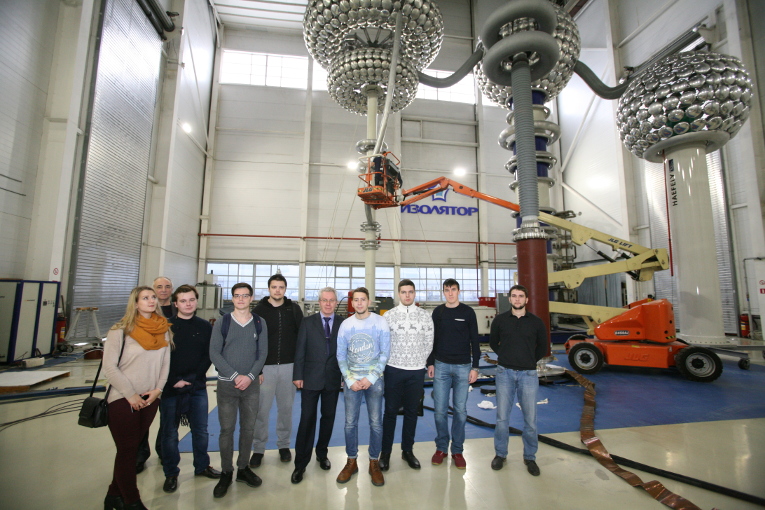 The attendees of the visiting class for MPEI Research University students at Izolyator's test center