Legend of generations. Dedicated to the 90th Anniversary of Alexander Barkov
On 8 November 2017, Alexander Alexandrovich Barkov would have turned 90 years. He was an irreplaceable director of Izolyator plant in 1964–1989, outstanding production organizer, ideologist and inspirator of large-scale reconstructions and expansion of the key domestic manufacturer of high-voltage bushings for the power industry.
During his employment at Izolyator, Alexander Barkov made a career from electrician to the general director of the plant. He was a Senior Engineer at the testing station, Chief Process Engineer, Chief Designer, Head of Special Design Bureau of high-voltage bushings.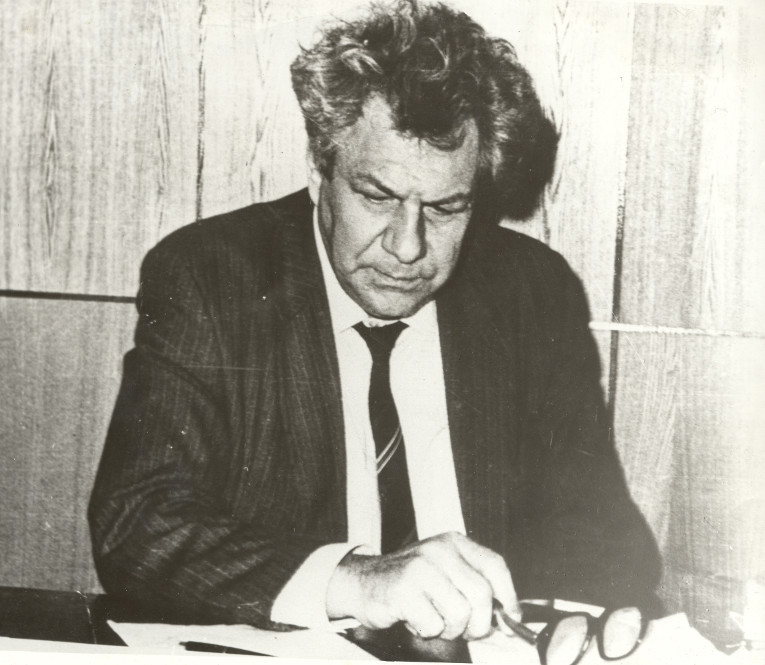 A. Barkov in his office
Alexander Barkov was born on 8 November 1927 in Lyahovo, Vereya district, Moscow region. Alexander came to Izolyator in 1944 as electrician. In 1959, he graduated from MPEI and becomes Chief Process Engineer at Izolyator. The plant rapidly developed together with the power industry of the country by improving equipment and expanding the product range.
In 1961, Barkov became Head of special design bureau of the plant.
In 1964, aged 36, Alexander Barkov headed the plant.
Practically immediately upon his appointment in 1965, the plant received an instruction to organize products delivery to Aswan dam in Egypt. That was a special order for bushings ranging from 66 to 500 kV. This order became a bright illustration of energy and enthusiasm of Izolyator team. "Necessary!" — this word stuck to Barkov's mouth. The client ordered leak-tight bushings — so development of designs and production process improvement started. The staff members worked on day and night shifts during the acceptance tests. The clean production policy was met so strictly — one could compare the plant with a medical institution.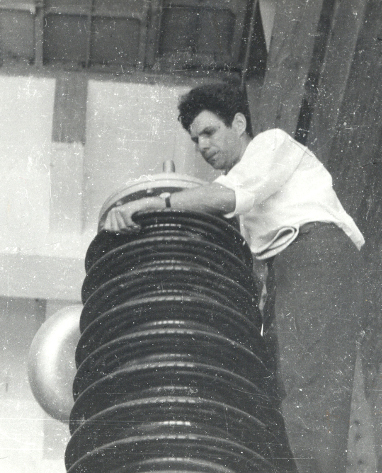 A. Barkov at the equipment installation at Aswan dam
It is a great merit of Mr. Barkov that Izolyator plant was expanded. Under his lead, it was completely reconstructed and received a new assembly and testing building, raw materials warehouse, envelope kiln for porcelain housing baking. In 1982, a new 8500 sq m administrative and laboratory facility was commissioned. During his work at all times, Alexander Barkov paid attention to reequipment, implementation of new technologies, product quality improvement at the plant.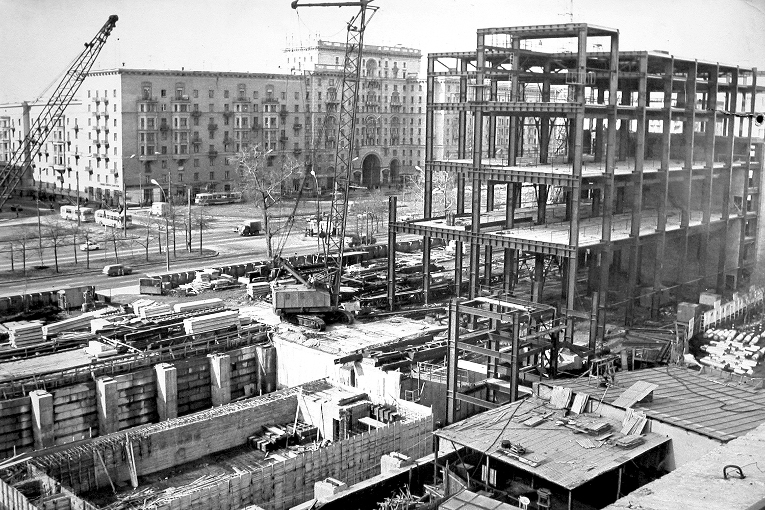 Construction of manufacturing and laboratory facility, 1970.
Izolyator became one of the leading enterprises of the Ministry of electrical engineering and occupied a visible stand not only in the country borders but far beyond, supplying its product to 26 countries of the world.
Under the management of Mr. Barkov and with his direct involvement, the plant developed high-voltage bushings for rated voltage range 20–1150 kV for power transformers, shunt reactors, oil circuit breakers and wall and detachable ultra-high current bushings. The plant made a transition to production of leak-tight designs, SF6 gas insulated bushings and DC bushings for ± 400 kV and ± 750 kV power lines. Alexander Barkov — the inventor — has two certificates of invention and he received the Council of Ministers USSR Award for creation and organization of mass production and implementation of new 110 kV transformer series in national economy.
In 1980, the plant completed development of leak-tight bushings for the world's first ultra-high voltage 1150 kV AC ETL Ekibastuz — Kokchetav — Kustanay, whose industrial operation began in 1989. Creation of bushings for such voltage had an important scientific and practical meaning for construction and development of ETLs for extra-long distances.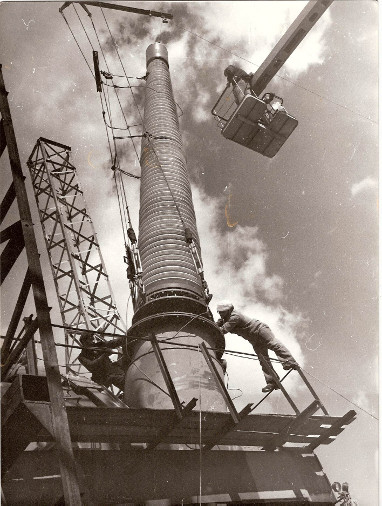 Installation of 1150 kV bushings, 1988.
During the period from 1964 to 1989, the overall production of finished products grew 6 times, high-voltage devices — almost 5 times, the staff reached 1200 people, productivity increased 5 times.
The plant ranked high among the industrial enterprises of the Ministry of Electrical Engineering due to the selfless work of workers, engineers and the whole staff and high performance and social indicators.
Izolyator staff was awarded Letters of recognitions from Moscow Council, MCSPC, organization committees of the Olympic Games 1980, international exhibitions, VDNKh and other organizations' diplomas for achievement of high performance in the socialist competition and a large contribution to development of the national economy of the USSR.
In 1979–1985, for the achievement of high results in quality products, the plant's staff was awarded four certificates "For the achievement of the best results in product output and the highest quality" of the All-Union Central Soviet of Trade Unions and Gosstandard, also Moscow Council and Moscow Standardization and Metrology Center diplomas for "The best quality control organization in Moscow factories in 1982".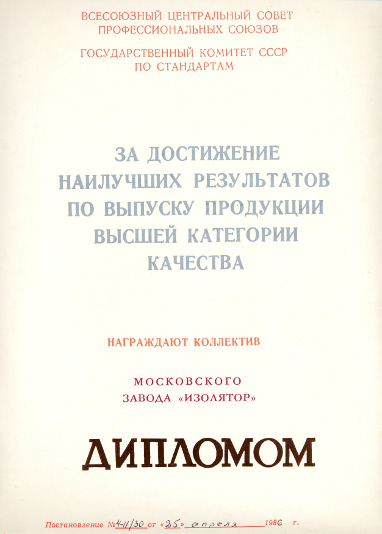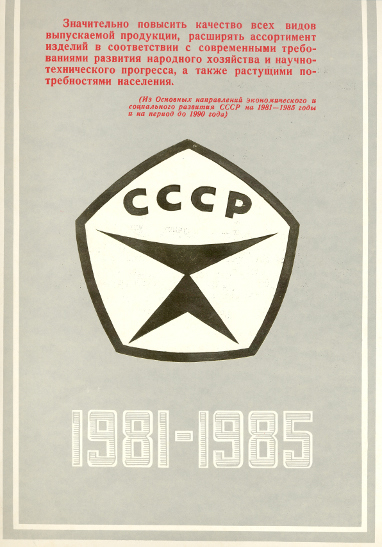 Diploma "For the achievement of the best results in product output and the highest quality"
For high operational indicators, advanced delivery of quality power equipment to the most important construction sites of the country (Kuybishev, Bratsk, Krasnoyarsk HPP, etc.) Alexander Alexandrovich Barkov was awarded order of the Red Banner of Labour, order of Peoples' Friendship, Badge of Honor and five medals. On 9 May 1985, he participated in the Victory Day Parade on Red Square in honor of the 40th Anniversary of the Great Victory.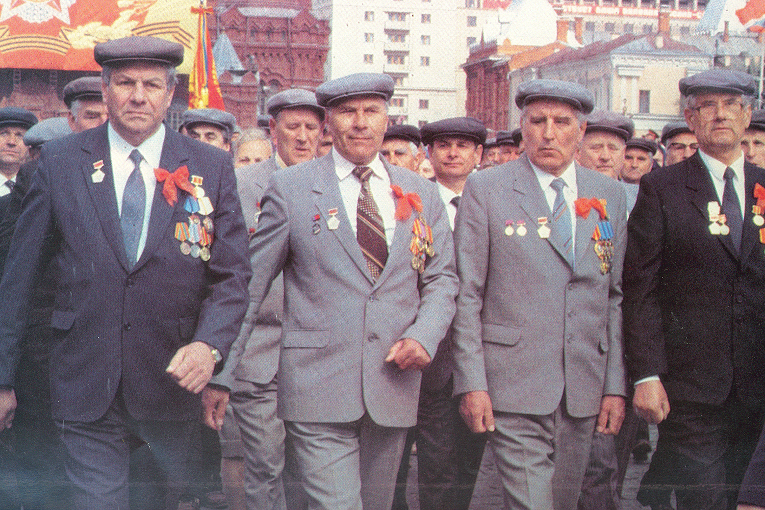 A. Barkov is taking part in the Victory Day Parade on Red Square in honor of the 40th Anniversary of the Great Victory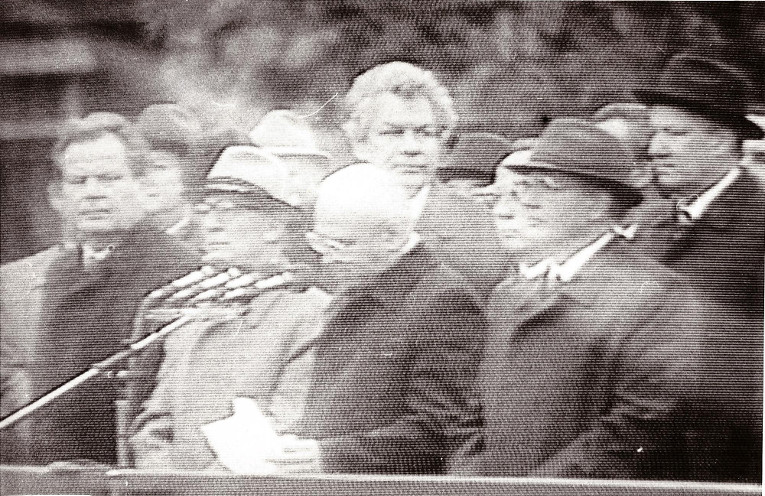 A. Barkov at the unveiling ceremony of the Ernst Thalmann monument in Moscow
A. Barkov knew all pain points of the plant. He could inspire people. That is what the workers say, and so it was. As for that reason, his name was recorded in the plant's name in 1992 — the name of Alexander Alexandrovich Barkov, a great laborer, a wonderful manager, a man of integrity, who will be remembered by many generations, those who work at the plant now and those who will appear to replace them.
Monument to A. A. Barkov by the entrance to Izolyator plant
The glorious traditions of hard work, established by A. A. Barkov, are cherished and developed in our days. Today, Izolyator is one of the largest in the world manufacturers and suppliers of high-voltage bushings, a modern and highly technological manufacturing plant with advanced equipment, capable to design, manufacture and test AC and DC bushings with rated voltage 12–1200 kV.