Certificate of Acknowledgement of the Moscow Region's Governor
On 3 November 2017, the Governor of Moscow region Andrey Vorobyov gave awards on the occasion of the National Day of Unity.
"We traditionally gather at the reception hall to mark the best and worthiest people, staffs that have professionally worked with total dedication for the benefit of our country and our region. Those are people of various ages and occupations, nationalities, confessions, united with a common wish to see Russia strong and independent", said Andrey Vorobyov during the awards ceremony.
Izolyator staff received the Moscow region's Governor's acknowledgement of the longstanding dedicated work, high professionalism and a strong contribution to development of the industrial complex of Moscow region.
The General Director of Izolyator Sergey Moisseev received the award from the Governor.
In his speech, Sergey Moisseev thanked the Governor, the Government of Moscow region and the Administration of the city district Istra for an all-round support.
In 2007, a large-scale project of Izolyator plant relocation from Moscow to Istra district of Moscow region was successfully accomplished.
Today, Izolyator is a modern advanced technology enterprise, fitted-out with the latest equipment, able to design, manufacture and test bushings of alternating and direct current in the 20–1150 kV range. The company actively implements advanced technologies and design novelties, expands its product range by introduction of totally new development, carries out modernization of product designs and production process.
In its over 120-year history, the plant has produced more than 620,000 high-voltage bushings, operating in the overwhelming majority of of power facilities of Russia and the CIS countries as well as 30 countries of the world.
The annals of the company boast more than 100 labor dynasties, many of those people working at the plant today. "Century-long traditions, state-of-the-art technologies" — these words became a motto for those, working at the plant, rightly believed a global leader in development and production of high-voltage bushings.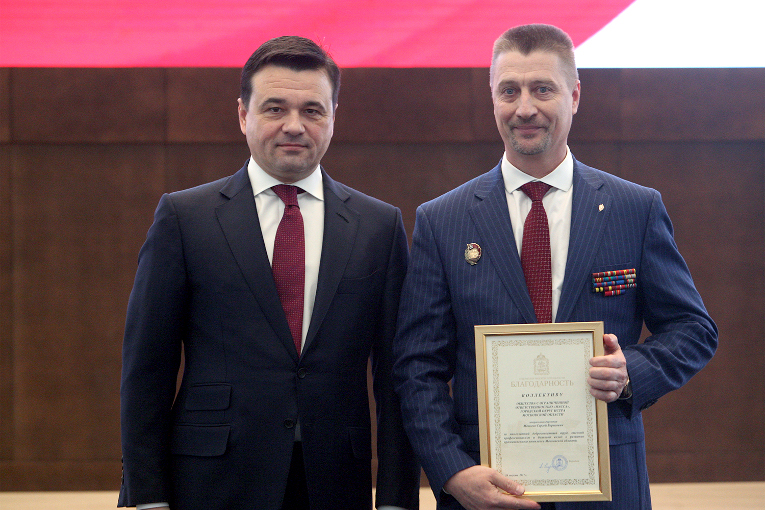 Andrey Vorobyov (L) and Sergey Moisseev at the awards ceremony in honor of the National Day of Unity