Fundraising Futsal Cup of MIC Russia
On 25 Nobember 2017, Izolyator took part in a fundraising Futsal Cup of the Mulitary-Industrial Complex of Russia and made a successful game.

Futsal cup of the Defense industry of Russia is a championship held among the industry enterprises. It is a fine opportunity to meet informally and set up a contact spending time on the field in company with partners, customers and contractors.
The tournament went in the Spartak sports center in Moscow. It was a large sports festival with global reach, which is supported by the Defense Ministry of Russian Federation and traditionally gathers about 20 teams from different parts of Russia and the CIS.
The teams of industrial, research and defense enterprises from Moscow, Saint Petersburg, Orel, Nizhny Novgorod, Voronezh, Voskresensk, Khimki, Troitsk took part in competitions.
Izolyator futsal team also played in the games and became the strongest in its group in the result of four matches, making it to the Golden play-offs and losing 0:2 to Sberbank of Russia team in the final game.
Izolyator futsal team was awarded a special cup "Revelation of the Tournament!"
Team roster:
Mikhail Sheremetyev, Captain
Gennady Rybakov, Coach, master of sports, football
Anton Kobelev
Alexander Nakidalhyuk
Maxim Smurygin
Denis Petrov
Mikhail Puzyrev
Alexander Germanov
Evgeny Kurachuk
Pavel Zotov
Maxim Melnichenko
A famous football player, broadcaster and Match TV sports shows host Evgeny Savinov took part in the tournament.
Part of the funds, raised with the cup organization, will be donated to charity fund helping the patients of the Moscow Oncological Institute named after P. A. Gertzen.
We will provide a detailed coverage of the MIC Russia cup in our next issue of Izolyator corporate edition and on the company's official pages in social media.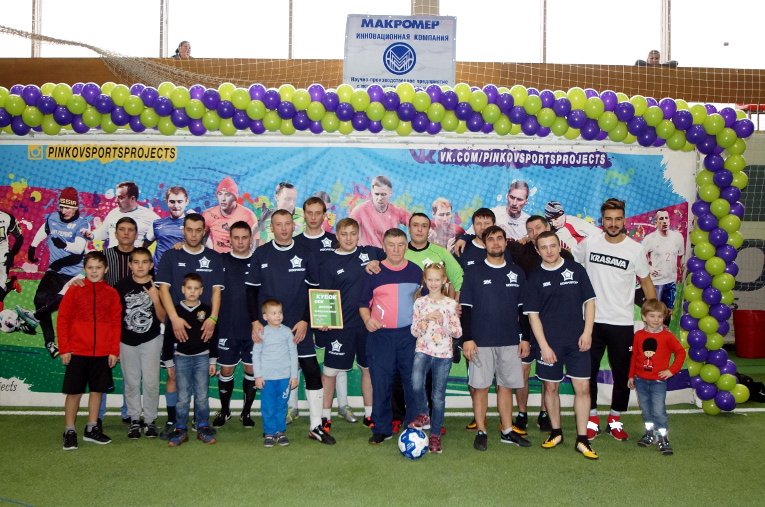 Izolyator team at the fundraising Futsal Cup of MIC Russia
Our congratulations to Izolyator team with its successful performance and thanks to all supporters!