Russia – Vietnam: A New Stage of Cooperation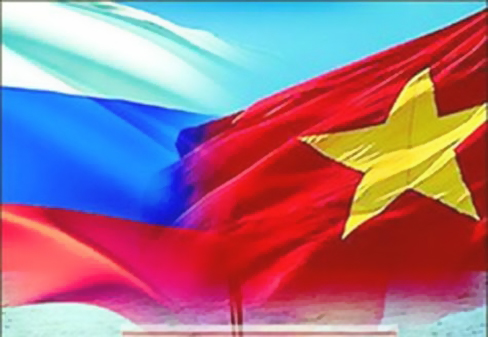 Friendly relations between Russia and Vietnam are entering a new level and open great prospects for development of various sectors of economy of the two countries, including power industry. The Russian electrical engineering products have operated at power facilities of Vietnam for over half a century having proved reliable. So, today, cooperation ties between the companies of the two countries are not merely confined in export - we rather speak about experience sharing, joint research and mutual strive to perfection of the energy complex. The dialogue development between the power men and electrical equipment OEMs of Russia and Vietnam became the next stage of interstate partner relations.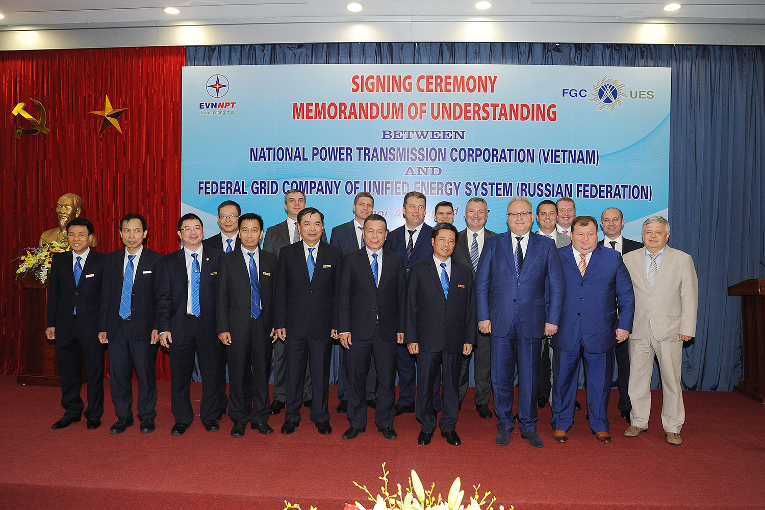 Participants of the meeting of EVN NPT and FGC UES management with Izolyator's participation in 2017
INTEGRATIVE DEVELOPMENT OF POWER SYSTEMS
The huge experience, accumulated in the electrical engineering in the USSR and the Socialist Republic of Vietnam, laid the foundation for a trustworthy and mutually beneficial cooperation and knowledge sharing in power industry. The longstanding fault-free practice of Russian electrical equipment operation at power facilities of Vietnam became the best example and unquestionable reference of a high quality and reliability.
HISTORY OF PARTNERSHIP
The beginning of relations in power industry, namely, in power transmission, between the countries was put by the visit of EVN NPT delegation to Russia in October 2016. EVN NPT management representatives, led by Dang Phan Tuong, Chairman of the Board of Directors had a meeting with Andrey Murov, Chairman of the Board of Directors at FGC UES PJSC. The sides discussed issues of 220 - 500 kV main power lines construction and operation, usage of nationally produced high-voltage equipment at power facilities.
A NEW STAGE OF COOPERATION
In August 2017, the Federal Grid Company of Russia management paid a working visit to Vietnam. The FGC UES delegation, led by Chairman Andrey Murov, had meetings with the management of the state power grid corporation of Vietnam EVN NPT, represented by Chairman of the Board of Directors Dang Phan Tuong, and EVN holding, also visiting power infrastructure facilities near Hanoi.
The plenary sitting was held in the headquarter of EVN NPT. Mr. Dang Phan Tuong and Mr. Andrey Murov addressed the meeting attendees with welcome speeches. The colleagues wished one another to have productive talks and proceeded to discussion of power industry issues.
Mr. Tuong made a thorough introduction of Vietnam's power system, prospects of its development, investment potential and turned the floor over to his Russian colleague.

EVN National Power Transmission Corporation (EVN NPT) was founded in 2008 with the reorganization of four companies' activity: Power Transmission Company No. 1, 2, 3, 4 and three Project management offices: Northern, Central and Southern. The goals of the company are: to ensure safe, uninterruptible and sustainable transmission of electric power for economic, political, social, national defense activities and national security; to develop EVN capital, invested in EVN NPT; to rationally use available resources with the purpose of profits maximization and acquiring funds for reinvestment in EVN NPT. The main activities are: to effectively realize electric power transmission, to invest in grid development, to operate, maintain and service the network, to render consulting services in regard to construction and investment, monitoring of project realization, training and developing employees for management, operation and maintenance of the power system. EVN NPT owns more than 100 electric power substations in Vietnam.

Federal Grid Company is the operator and manager of Russia's unified electricity transmission grid system, including high voltage transmission lines, and holds the status of a natural monopoly. The Company's assets include more than 139,000 km of transmission lines and 924 substations with more than 332 GVA of 35–750 kV transformer capacity. Based on the length of transmission lines and installed transformer capacity, Federal Grid is the largest publicly traded electricity transmission company in the world. Federal Grid's business is to provide electricity transmission and technological connection services. It maintains and develops the grid system and supervises grid facilities and infrastructure in 77 Russian regions, covering a territory of 15.1 million square kilometres. Its customers are regional distribution companies, electricity suppliers and large industrial enterprises. The Company is a natural monopoly with 80.13% stake controlled by Russian Grids.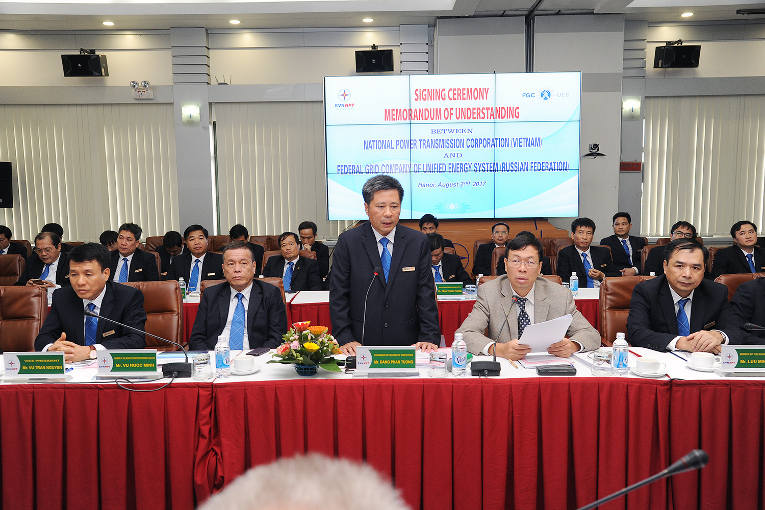 Dang Phan Tuong addressing the audience
Andrey Murov made a presentation of FGC UES's performance indicators, summarized previous discussion and informed about the power industry arrangements reached between RF President Vladimir Putin and Tran Dai Quang, President of the Republic of Vietnam, during the talks taking place in the Kremlin on 29 June 2017.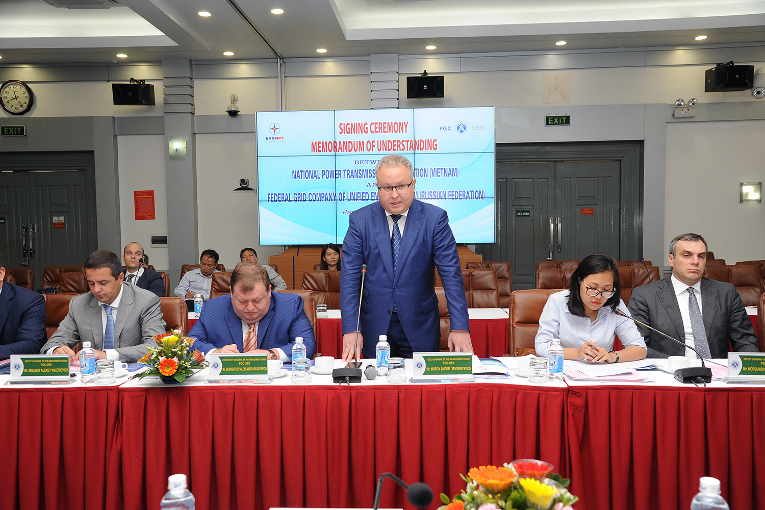 Andrey Murov addressing the attendees of Russia — Vietnam meeting
Investment and power systems' innovative development programs became the next topic of discussion, introduced by the report of Pavel Korsunov, Deputy Chairman of the Board at FGC UES PJSC. He told about the progress of those programs at FGC UES and outlined key directions of cooperation with EVN NPT. Mr. Korsunov's report was received by the Vietnamese colleagues with interest.
Timofey Ryabin, Deputy General Director at R&D Center of FGC UES made a report on the scientific and engineering potential, initiation, development and implementation of innovative projects at his organization, which is a subsidiary of FGC UES PJSC. He named priority directions for innovative development in the quality of electric power, energy efficiency and decrease of loss in networks. In his report, Mr. Ryabin spoke about distant control and security of operation of power equipment and gave examples of innovations implementation at FGC UES's power facilities.
In addition, he mentioned that R&D Center of FGC UES made a bid on the open tender of EVN NPT, announced in 2016, to develop a program of power lines modernization in Vietnam. As a bidder, R&D Center of FGC UES ran a thorough analysis of the entire power transmission system in Vietnam and provided a complex and detailed modernization plan of Vietnam's ETLs.
This activity allowed the Center to assess the unique history of explosive development of Vienam's power grids and offer rational suggestions on the methods allowing to identify evident problems of the grid development, avoiding expensive mistakes, in the shortest possible time.
By all means, the report raised a great interest with EVN NPT. We can expect that the proposed assessment recommendations would be considered for the plans of further transmission networks development in Vietnam.
After the first part of the meeting, the sides had an opportunity to discuss every speaker's report in a free discussion during a coffee break. The informal socializing was of help for creating a more efficient coordination between the Vietnamese and Russian power men, facilitating all further dialogue between the two countries.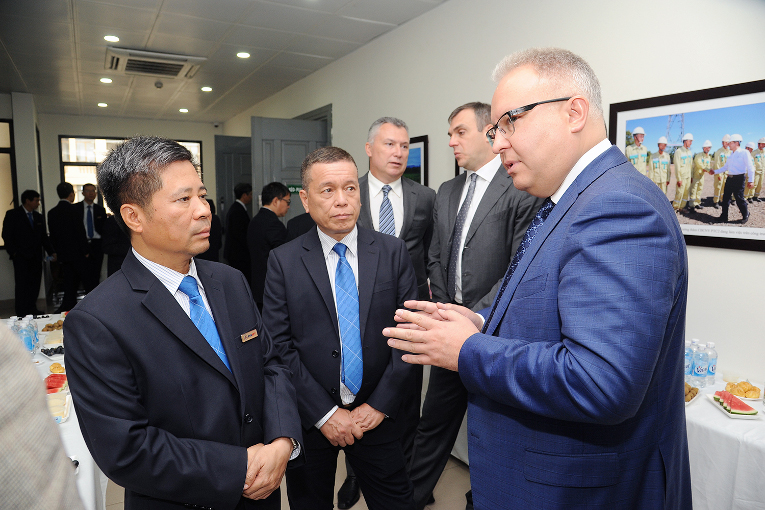 Talks at the backstage of the official meeting
Later on, the Deputy Chief Engineer of FGC UES Andrey Zhukov took the floor. He told the audience about advance development in construction and operation of unmanned substations and shared experience of dispatch control centers for distant control of power facilities.
Russia's trade representative in Vietnam Vyacheslav Kharinov spoke about the role of the state bodies in non-resource exports promotion in Russia and the positive cooperation experience of Russian and Vietnamese companies. He gave references of successful cooperation between Russian industrial manufacturers, high-voltage equipment OEMs and various private and state energy companies of Vietnam.
Russian Export Center was represented by Robert Kurilo, who shared positive references on Russian equipment deliveries to Vietnam and spoke about non-resource export of Russian companies. The sides emphasized the importance of cooperation issues between Russia and Vietnam and the need to develop a productive dialogue between the companies of the two countries.
The Chairman of the Board of Directors of Izolyator Alexander Slavinsky represented Russia's industrial manufacturing sector, namely producers of electrical equipment most frequently used in power transmission networks. In his report, he mentioned about the wide range of electrical equipment, made on the territory of Russian Federation, and presence of the manufacturers of the most demanded 330 kV and higher classes equipment in the market. He also spoke about highly professional and competitive pool of transformers and autotransformers makers (550 kV and higher).
Alexander Slavinsky stressed how important it is to attract manufacturers with possible organization of local production of 110 - 550 kV switchgear, 500 - 750 kV shunt reactors, 500 - 750 kV circuit breakers and 330 - 750 circuit breakers.
One of the growth factors behind Russia's power grid development is presence and a successful century-long operation of a manufacturer of the complete range of high-voltage bushings (up to 1150 kV and higher) in Russia. This fact allows the country to stay independent of import of such products and provides an opportunity to develop export of own products.
The longstanding positive track record of Izolyator equipment operation in Russia, confirmed by the world's leading power grid company FGC UES proves the best recommendation for other countries.
A separate part of Alexander Slavinsky's report was dedicated to the goals that Russian industrial companies set for themselves on the global arena and the ways to achieve them.
Izolyator's long-term and successful experience in the Republic of Vietnam was named as an example of goal-setting and accomplishment, with clearly stated objectives that the company pursued, with consistent delivery in the practical side to-date.
In conclusion, Mr. Slavinsky gave a positive opinion on Russia-Vietnam relations' potential and prospects of Russian companies' involvement in high-voltage equipment modernization and power complex support in Vietnam.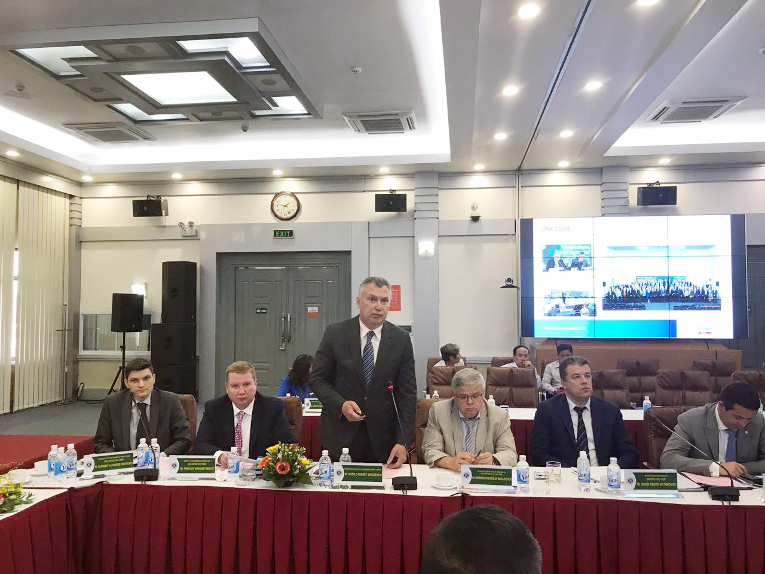 Alexander Slavinsky making a report
The colleagues from EVN NPT spoke about investment plans of company development, innovative solutions, implemented by the corporation, and requirements to the manufacturers of equipment, which will later be used on the power transmission and distribution facilities.
Direct Russia-Vietnam dialogue
SIGNING MEMORANDUM ON COOPERATION
Signing of the Memorandum of Understanding became the main practical result of the meeting. Both sides reflected the main approaches and directions of long-term cooperation in the document, and decided to keep the achieved arrangements both in the short-term and 3-5 year perspective. The sides plan to share experience in construction, operation and management of bulk power transmission networks, train personnel, create and implement new technologies.
Andrey Murov, FGC UES Chairman and Vu Ngok Minh, EVN NPT President and General Director put their signatures on the memorandum in presence of the Chairman of the Board of Directors of EVN NPT Dang Phan Tuong and the delegates from both sides.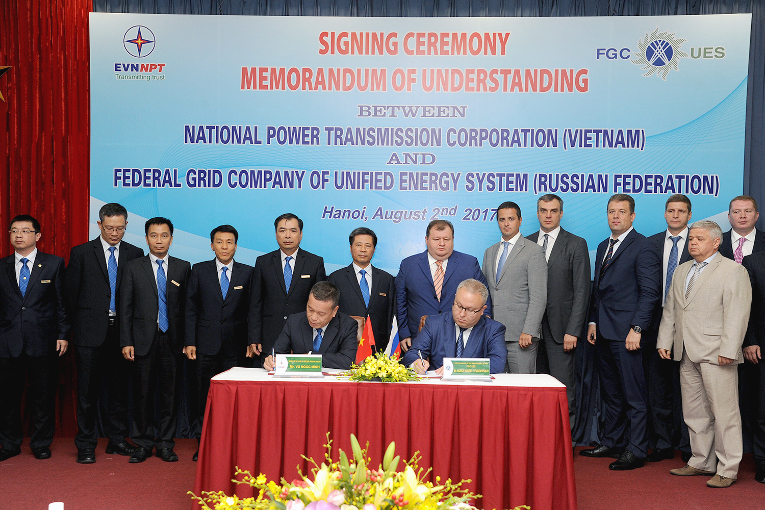 Signing of the Memorandum of understanding between EVN NTP and FGC UES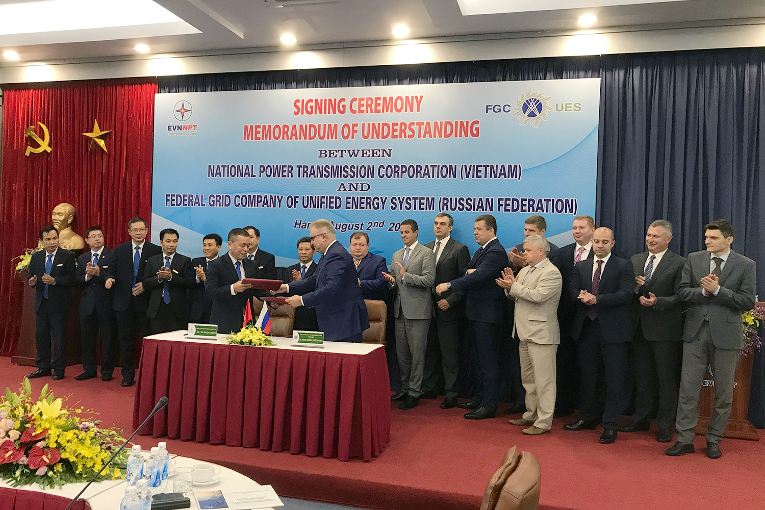 Culmination of the day - Memorandum has been signed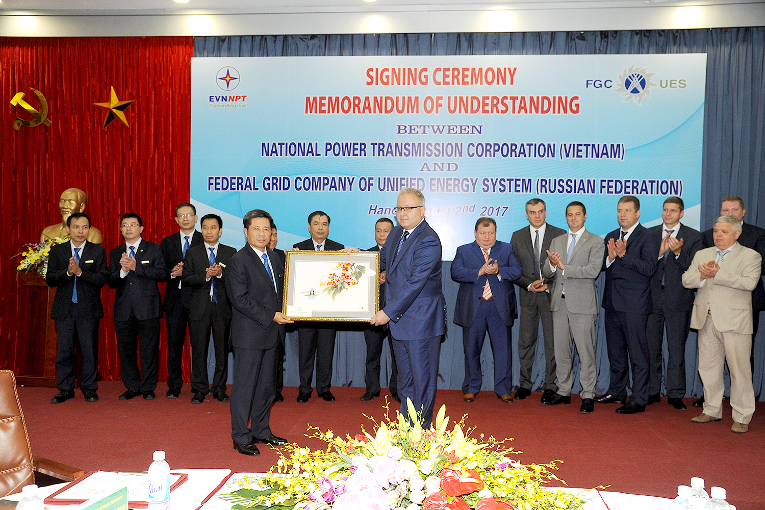 Exchange memorable gifts
VISIT TO THE HEADQUARTER OF EVN
On the same day, the Russian delegation visited the headquarter of EVN and had a working meeting with Vice-President of EVN Mr. Ngo Sohn Hai. The sides agreed to take all efforts to make the memorandum a working document and expand coordination as and when necessary.

The State Power Company Vietnam Electricity (EVN) EVN takes full responsibility for transmission and distribution of electric power across the country. Among its major activities are: generation, transmission and distribution of electric power, management system operation in the national grid, import and export of electric power, investment and power projects investment management, management, operation, maintenance, modernization and overhaul of power equipment, automation and mechanization of production lines, transmission and distribution of electricity, installation works, experimental development and tests. To ensure power supply EVN controls: 3 generation companies (Power Generation Corporation No. 1, 2 and 3) , 5 utility companies: Electricity Corporation North (EVN NPC), Corporation Central Electricity (EVN CPC), Corporation Southern Electricity (EVN SPC), Electricity Hanoi (EVN HANOI), Electric City Corporation Ho Chi Minh City (EVN HCMC). National Electricity Transmission (EVN NPT) company is now responsible for power transmission within Vietnam Electricity Corporation.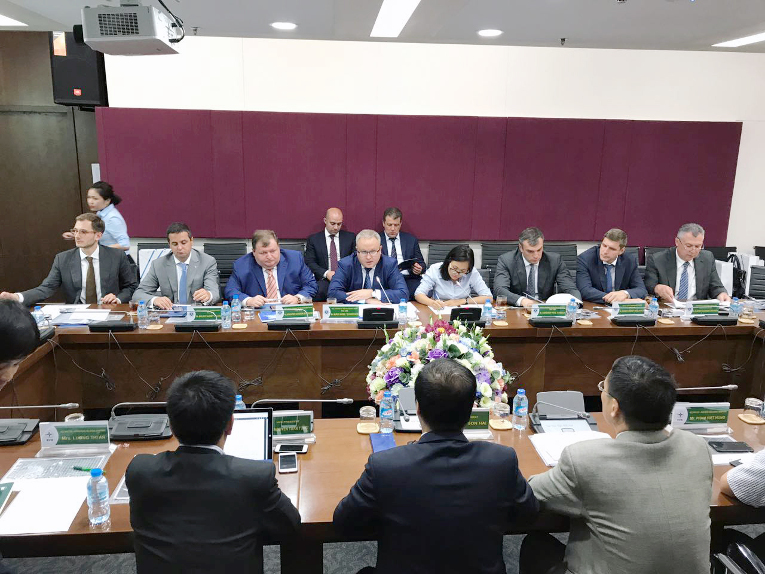 Meeting at EVN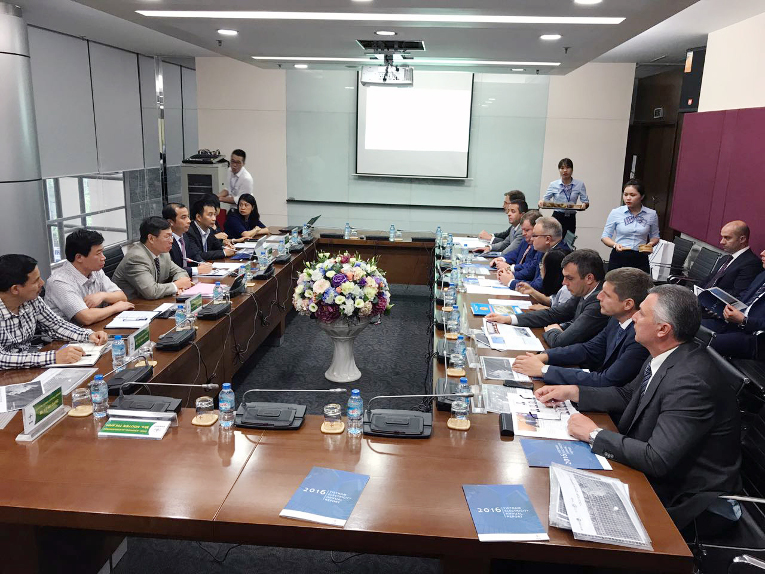 Talking about cooperation development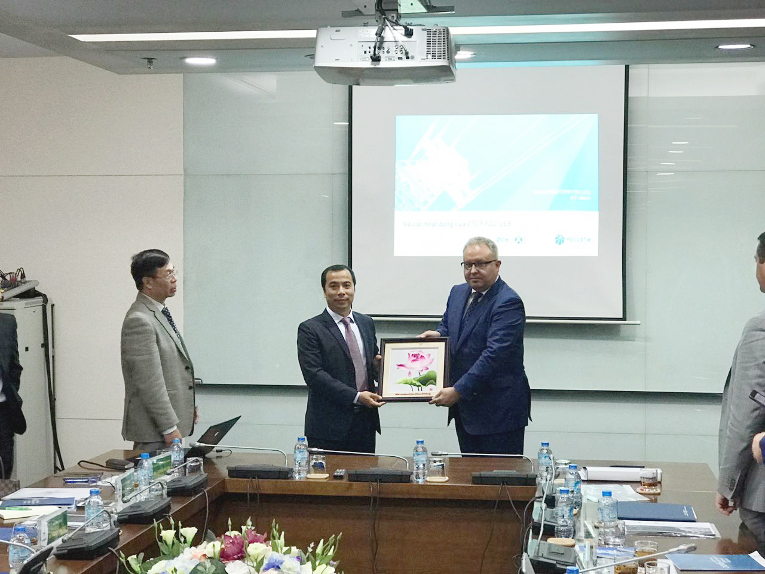 Exchange memorable gifts
VISIT TO 500 KV THUONG TIN SUBSTATION
A visit to the 500 kV Thuong Tin substation, operated by EVN NPT, was made on the second day of the business agenda.
The Vietnamese specialists told about subtleties of the substation operation, power equipment features and professional level of staff. It was interesting for FGC UES representatives to compare the work of their Vietnamese counterparts with the practices existing in Russia. The specialists received exhaustive advice on the electrical equipment operation and outlined possible directions of future collaborative action.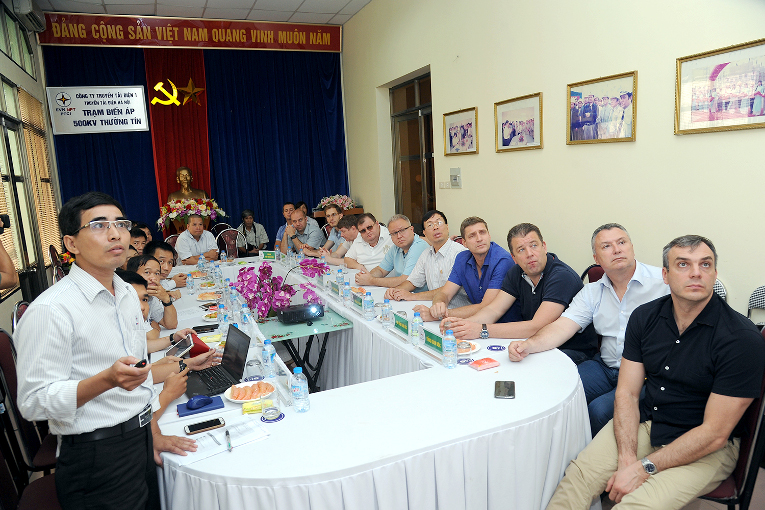 Visit to 500 kV Thuong Tin substation
The Russian delegation also shared experience of successful application of HV RIP bushings in power transmission and distribution systems in Russia and confirmed a strong interest in further cooperation with Vietnam's power professionals.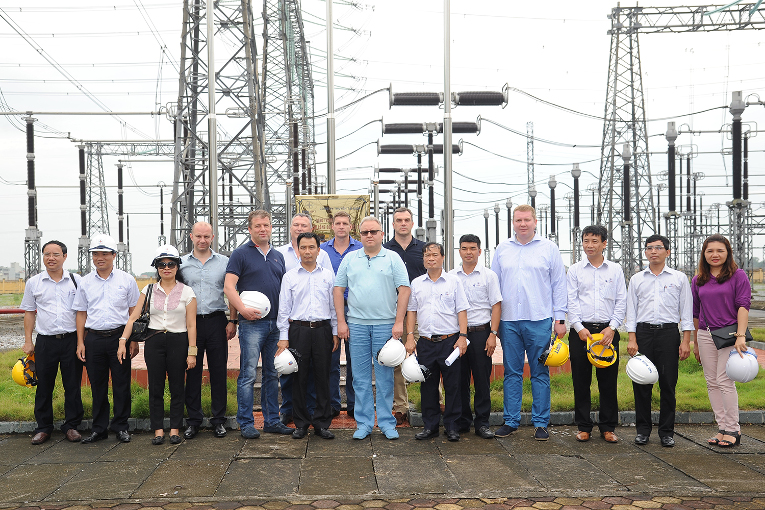 Visitors of 500 kV Thuong Tin substation
RESULTS OF THE VISIT OF RUSSIAN DELEGATION
The visit has opened new prospects of mutually beneficial and integrative cooperation development between the national and regional electric power systems of Russia and Vietnam.
Today, Russian companies are setting ambitious targets of entering new sales channels with electrical engineering products. The international markets have faced a high volatility, while non-resource export increase would help reduce its influence on Russia's economy. The key factor of exports growth is attraction and involvement of new exporters in foreign trade activities and increase of their competitiveness.
The signing of the memorandum has become an important step towards Russian power products promotion on the Asian market, laying the groundwork for further partnership development between Russian exporters and South East Asian countries' importers.
On Izolyator side, we would like to express a deep gratitude to the Chairman of the Board of FGC UES PJSC Andrey Murov and the Chairman of the Board of Directors of EVN NPT Mr. Dang Phan Tuong for their input in development of a productive dialogue with the manufacturers of electrical products in Russia and Vietnam.
We hope that Izolyator's activities in supply of highly advanced innovative equipment to Vietnam will improve the volumes of non-resource export and make Made in Russia brand more visible and recognizable.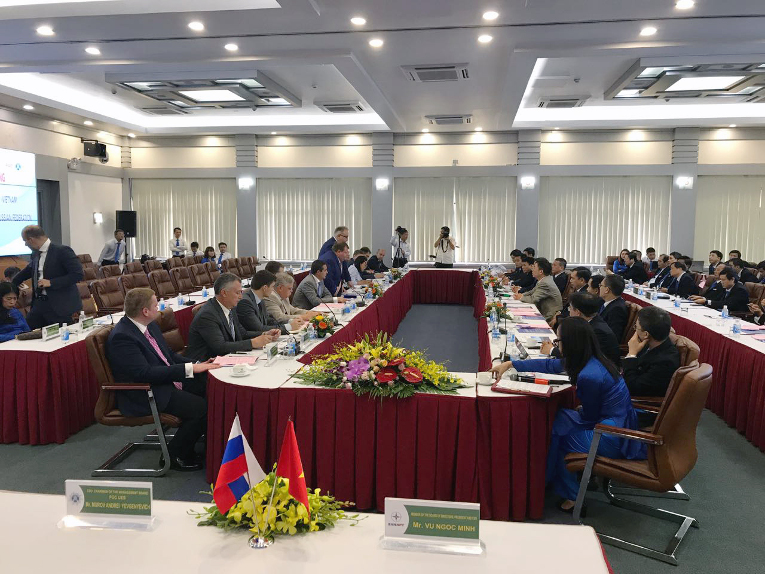 Russia - Vietnam meeting opened new prospects of cooperation
OPEN WORKSHOP ON SHARING EXPERIENCE AND ADVANTAGES OF HV RIP BUSHINGS OPERATION IN THE POWER TRANSMISSION NETWORKS OF FGC UES PJSC IN RUSSIA
Russian power grid is not only the longest in the world (over 140 000 km!) but also the most experienced operator of high-voltage bushings with solid RIP insulation. In 2005, FGC UES PJSC made a decision to use RIP bushings both on new power equipment and as replacement bushings on transformers, circuit breakers, wall-bushings, etc. Presently, FGC UES PJSC operates over 43 000 bushings of all voltages, with 7500 Izolyator RIP bushings among them. So, Russia represented by FGC UES is an absolute leader in RIP technology operation today.
The unique experience of mass use of HV RIP bushings in Russia attracts more and more attention in both Europe and Asia, where the obsolete bushings with oil-in-paper insulation are still widely used. The practice showed that the solid insulation is more reliable and safer, so one of the key targets of Izolyator is to tell about the advantages of application and maintenance of HV RIP bushings to the partners all over the world.
This priceless and unique 15- year experience of HV RIP bushings application at FGC UES PJSC and the worldwide trend with the leading power grid companies to make a transition to high-voltage RIP bushings, as was with PGCIL in India, raised interest with EVN NPT and allowed Izolyator to set up a dialogue and deliver a presentation on application examples and advantages of RIP bushings in FGC UES power network in Russia.
Nguyen Minh Tang, Member of the Board of Directors at EVN NPT took part in the workshop.
Izolyator would like to express gratitude to EVN NPT and FGC UES for an opportunity to demonstrate its knowledge and give a detailed account of the successful longstanding practice of HV RIP bushings operation in the power transmission and distribution systems in Russia.
In the result of the meetings, all the involved sides reconfirmed readiness to continue cooperation on sharing years of experience in order to raise the quality and security of power transmission in Vietnam together with maximum cost saving of power equipment operation.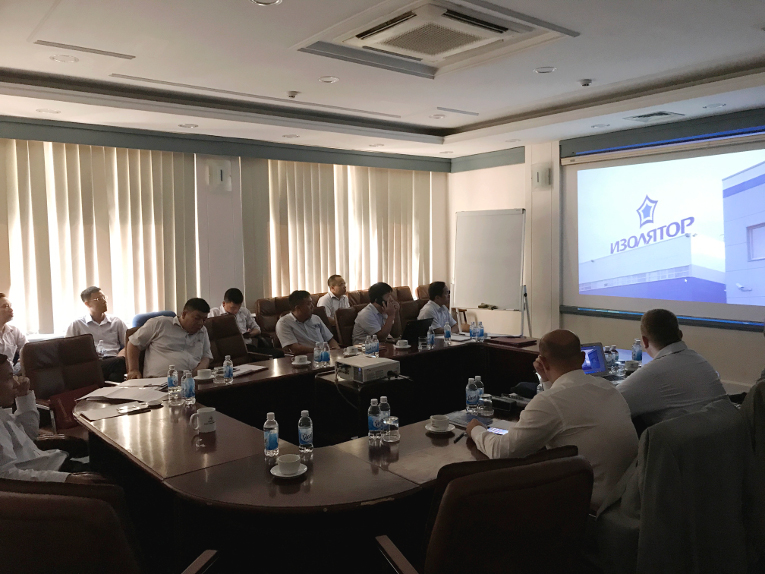 Izolyator's seminar at EVN NPT
AN EXAMPLE OF SUCCESSFUL PARTNERSHIP
Over a long period of time, Izolyator has lead activities in cooperation development and export of own made high-voltage bushings to the Republic of Vietnam.
Today, the company is proud and appreciative of the opportunity to have a productive and open dialogue with power men and electrical equipment OEMs, including Vietnam's energy company EVN and EVN NPT in particular, power equipment plant Dong Anh Electrical Equipment Corporation (EEMC).

Dong Anh Electrical Equipment Corporation (EEMC) has years of tradition and experience of design, manufacture, supply and maintenance of electrical equipment for the national grid, for instance, for such large national projects as NhoQuan 500 kV, thermal power substation VungAng 500 kV, many other stations: Ialy, Da Nhim, Uong Bi, Pha Lai, Thac Ba, HoaBinh, substations and ETLs 6–500 kV, industrial facilities in metallurgy, cement industry. Today EEMC is a leading power equipment manufacturer in Vietnam and Asia-Pacific in general and the only to make 220–500 kV transformers in Vietnam – making way for the country to enter a prestigious pool of 10 nations in the world who can design and make 500 kV transformers.
Deliveries of 72 to 220 kV HV RIP bushings to Hoa Binh HPC by Izolyator is the best example of an efficient cooperation. Those bushings were used to replace obsolete bushings with oil-in-paper insulation made by Izolyator plant and having served for over 25 years!

The Hoa Binh Hydropower Plant — the Hoa Binh Hydropower Company (Hoa Binh HPC) — is the largest in Vietnam and entire South Eastern Asia comparable with Son La HPP. The power plant is located on the river Da in Hoa Binh province. The dam is 128 m (420 ft) high and 970 m long (3182 ft). The construction was financed and managed with the invitation of Russian investment and specialists. Electric power is produced by eight hydro turbines with 240 MW capacity. The total installed capacity is 1920 MW. Today, the power plant produces up to 8160 GWhr of power annually, which corresponds to approximately 27% of the country's entire generation. The Hoa Binh Hydropower Company is owned by Vietnam Electricity state energy company.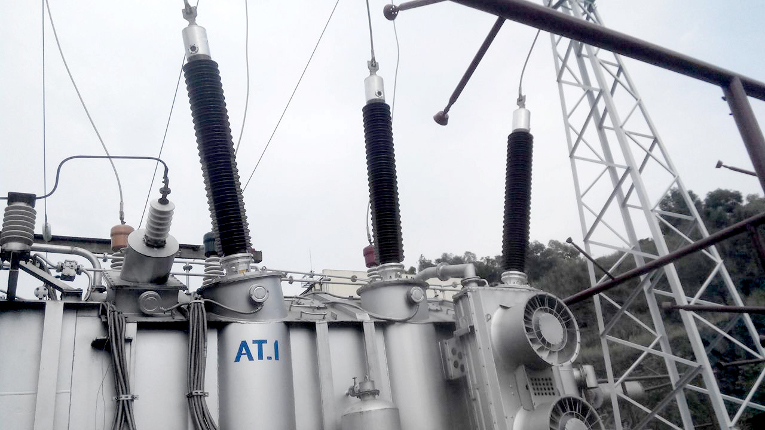 220 kV transformer RIP bushings made by Izolyator installed in 2016
In May 2017, the hydropower plant had the first batch of 220 kV Izolyator wall bushings with RIP insulation installed.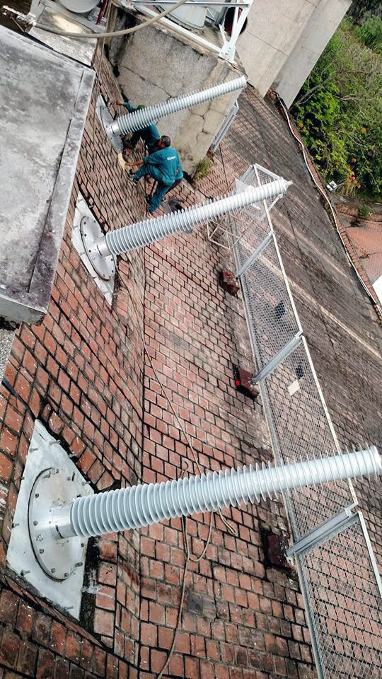 220 kV wall RIP bushings made by Izolyator delivered in 2017
FULL-SCALE WORK TO ORGANIZE THE VISIT TO VIETNAM
The beginning of the dialogue between the power grid companies of Russian Federation and Vietnam, mutual interest to develop cooperation and experience sharing as well as the signing of memorandum, which could easily be considered a historic fact and starting point of successful cooperation between the two friendly countries were made possible thanks to the hard preparatory work and opinions sharing among all participants of the two-day meeting in 2017 in Vietnam and the meetings in Russia in 2016.
The visit of the Russian delegation started long before the actual meeting with an active and gradual preparation, so the success of it is based on the professional work of all sides and their intention to develop cooperation together supported by openness in all discussions.
Izolyator, as participant and organizer of the meetings, would like to thank all co-organizers who contributed at distant arrangements and final approval of the working visit to Vietnam and Hanoi agenda.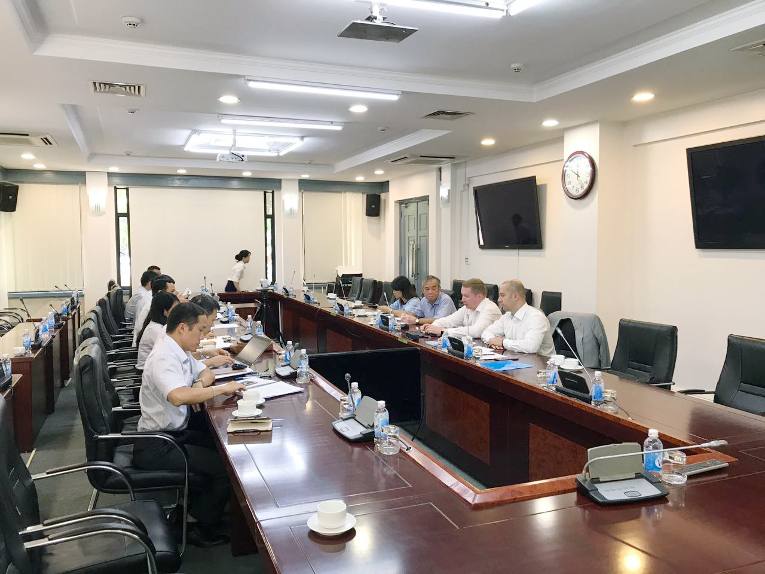 Preparatory meeting at EVN NPT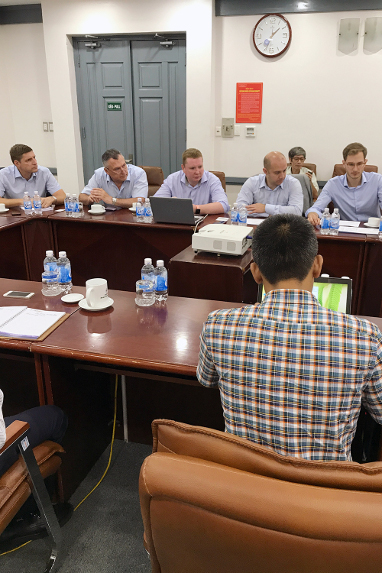 Discussing future events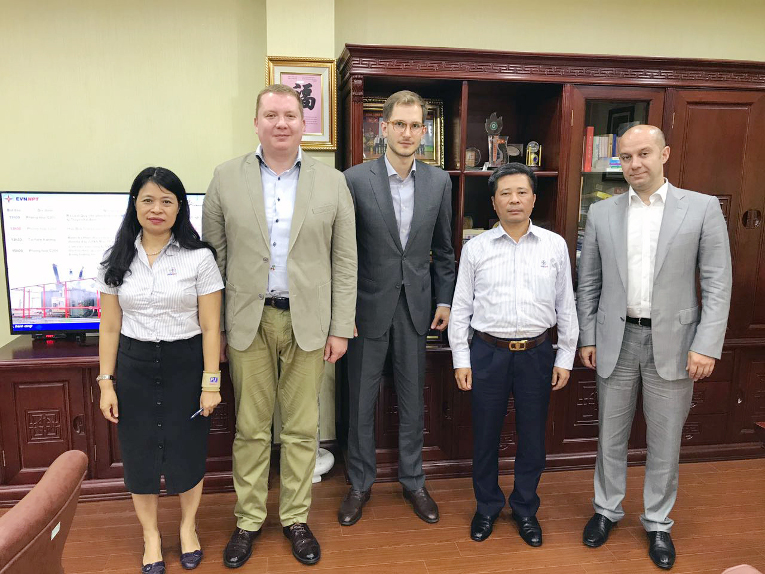 Active participants at preparatory meeting
WE WOULD LIKE TO THANK ALL PARTICIPANTS OF THE MEETINGS FOR ACTIVE ENGAGEMENT IN THE INTERNATIONAL DIALOGUE!