Visit of FGC UES Management
On 31 October 2017, a delegation of the Federal Grid Company of the Unified Energy System of Russia lead by Deputy Chairman Chief Engineer Dmitry Vodennikov, visited Izolyator plant.

Federal Grid Company is the operator and manager of Russia's unified electricity transmission grid system, including high voltage transmission lines, and holds the status of a natural monopoly. The Company's assets include more than 139,000 km of transmission lines and 924 substations with more than 332 GVA of 35–750 kV transformer capacity. Based on the length of transmission lines and installed transformer capacity, Federal Grid is the largest publicly traded electricity transmission company in the world. Federal Grid's business is to provide electricity transmission and technological connection services. It maintains and develops the grid system and supervises grid facilities and infrastructure in 77 Russian regions, covering a territory of 15.1 million square kilometres. Its customers are regional distribution companies, electricity suppliers and large industrial enterprises. The Company is a natural monopoly with 80.13% stake controlled by Russian Grids.
The delegation of FGC UES:
Sergey Popov, Deputy Chief Engineer
Andrey Zhukov, Deputy Chief Engineer
Ruslan Izmailov, Deputy Chief Engineer
Evgeny Lyapunov, First Deputy General Director, Chief Engineer MES Center
Andrey Melnikov, First Deputy General Director, Chief Engineer MES Ural
Konstantin Agapkin, First Deputy General Director, Chief Engineer MES North West
Alexander Terskov, First Deputy General Director, Chief Engineer MES Siberia
Vladimir Konishevsky, First Deputy General Director, Chief Engineer MES West Siberia
Nikolay Latyshev, Deputy Chief Engineer, Main Equipment Maintenance Director, MES Volga.
At Izolyator plant, the guests were received by:
Alexander Slavinsky, Chairman of the Board of Directors
Ivan Panfilov, 1st Deputy General Director, Commercial Director
Konstantin Sipilkin, R&D Director
Alexander Savinov, Strategic Sales Director
Pavel Kiryukhin, Deputy Chief Designer.
The hosts arranged for a manufacturing facility tour with Alexander Slavinsky introducing the guests to the key stages of the enterprise's establishment and development, production and testing technologies of high-voltage RIP bushings.
Konstantin Sipilkin presented innovative designs of high-voltage bushings to the visitors.
The Head of Test Center Dmitry Ivanov introduced demonstrated the equipment and capabilities of the center and the testing process of finished goods.
After seeing the production, the sides had a working meeting with discussion of operation specifics of high-voltage bushings with oil-in-paper insulation exceeding 25 years in field and prospects of cooperation development.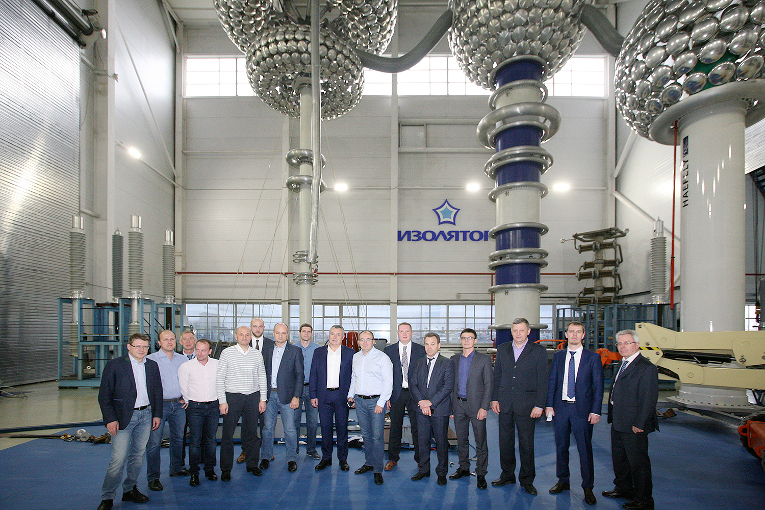 FGC UES's representatives visiting Izolyator plant
We would like to thank FGC UES PJSC for the plant visit and constructive dialogue!