Visit of Izolyator's Partner in Kazakhstan
On 23 August 2017, Nurlan Sarbalin, Executive Director of Doc Co. Ltd, Izolyator's partner in Kazakhstan, visited Izolyator plant.

There are 118 power plants of various forms of ownership in Kazakhstan. The power plants are divided into nationally significant plants, industrial-purpose plants and regional power plants. The power grid of the Republic of Kazakhstan presents a complex of substations, switching devices and power lines of 0.4–1150 kV aimed for transmission and/or distribution of electric power. The National Electric Grid (NEG) fulfils the role of a backbone network of the unified energy system of Kazakhstan, which ensures electric connection between the republic's regions and power grids of neighboring countries (Russian Federation, the Republic of Kyrgyzstan, the Republic of Uzbekistan) and supply of the energy by the power plants with subsequent transmission to wholesale consumers.
Maxim Osipov, Head of CIS sales welcomed the guest.
The host arranged for a plant tour giving an introduction to the modern production technologies of HV bushings. The Head of the test center Dmitry Ivanov demonstrated equipment and showed the testing process of the finished goods.
During the visit, the partners discussed results of cooperation and further strategic partnership plans.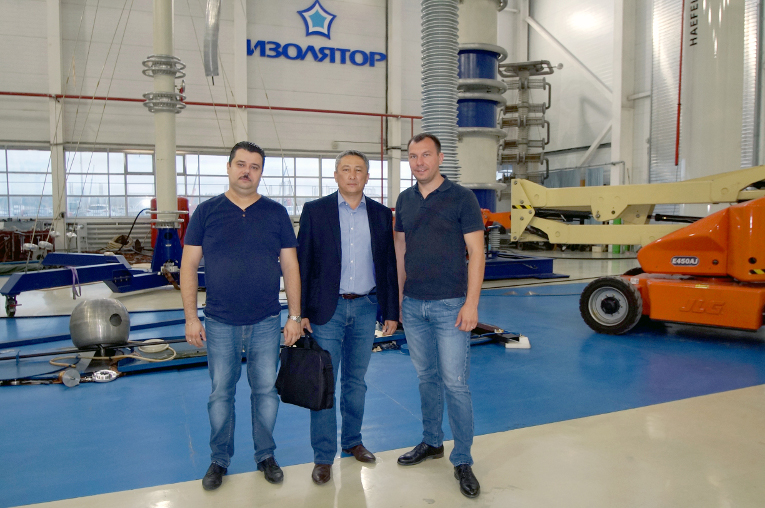 Visit of Izolyator's partner in Kazakhstan of the test center at Izolyator plant, L-R: Dmitry Ivanov, Nurlan Sarbalin and Maxim Osipov