Visit of Siemens AG Representatives
On 29 September 2017, representatives of Siemens AG paid a working visit to Izolyator plant.

Siemens AG (Berlin and Munich) is a global technology powerhouse that has stood for engineering excellence, innovation, quality, reliability and internationality for more than 165 years. The company is active in more than 200 countries, focusing on the areas of electrification, automation and digitalization. One of the world's largest producers of energy-efficient, resource-saving technologies, Siemens is a leading supplier of efficient power generation and power transmission solutions and a pioneer in infrastructure solutions as well as automation, drive and software solutions for industry.
Siemens AG representatives:
Maik Rothe, Energy Management Division, Transformers, EM TR MPT STDD BA P
Frank Selbiger, Energy Management Division, Transformers, EM TR P COM
Iskren Tsekov, Purchasing and Logistics Director, Siemens Transformers Ltd, Voronezh.
On Izolyator side, the visitors were received by:
Yaroslav Sedov, Head of European Sales,
Maxim Zagrebin, Head of OEM Sales,
Alexander Znamensky, Foreign Trade Specialist.
Izolyator representatives made a corporate presentation, telling about key advantages of Izolyator high-voltage bushings and experience of company products promotion on world markets.
Later on, the hosts gave a plant tour for the visitors introducing the main production stages of high-voltage RIP bushings.
The talks were held to discuss an opportunity to use Izolyator as a potential supplier of completing parts for equipment made by Siemens Transformers Ltd.
The sides marked that the meeting was productive and agreed to discuss an opportunity of technical seminar organization for specialists of Siemens Transformers AG.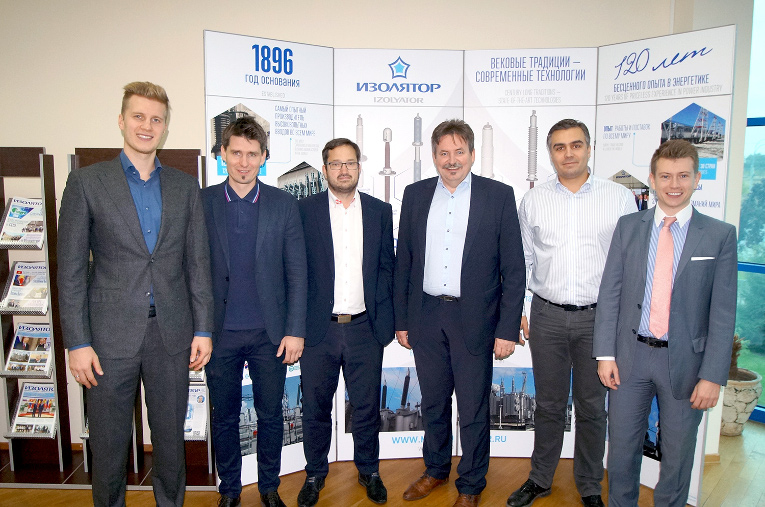 Meeting with Siemens AG representatives at Izolyator plant, L-R: Yaroslav Sedov, Maxim Zagrebin, Maik Rothe, Frank Zelbiger, Iskren Tsekov and Alexander Snamensky
We appreciate representatives of Siemens AG for their visit to Izolyator plant and productive talks!