Elektroporcelán meeting
On November 22, 2018, representatives of Izolyator visited the plants of Elektroporcelán in Louny and Merklin, Czech Republic.

Elektroporcelán a.s. is an important European manufacturer of ceramic insulators and ceramic products. Thanks to a high level of its products it is winning considerable share in the demanding markets of Europe, Australia and North America. The company makes products which comply with the Czech and foreign standards, and delivers custom made products developed according to individual requirements. Elektroporcelán's plant in Louny makes first of all the reinforced and non-reinforced insulators of medium assortment for both low- and high-voltage lines. Elektroporcelán's plant in Merklin makes up to 500 kV insulators with maximum construction length of 5,000 mm. Being a contract supplier of Izolyator plant Elektroporcelán delivers ceramic insulators for installation as external insulation for high-voltage bushings of 35–750 kV voltage class.
Izolyator was represented by the head of the procurement department Vladimir Romanov and the purchasing manager Antonina Maslennikova.
In Louny, guests were welcomed by Jiří Blaga, Commercial Director of Elektroporcelán.
Both parties summed up the results of business in 2018, noting significant achievements and the successful nature of mutual cooperation.
The parties specified the range of products supplied, agreed on common objectives and outlined an action plan for the development of business relations both in the nearest future and in the mid-term.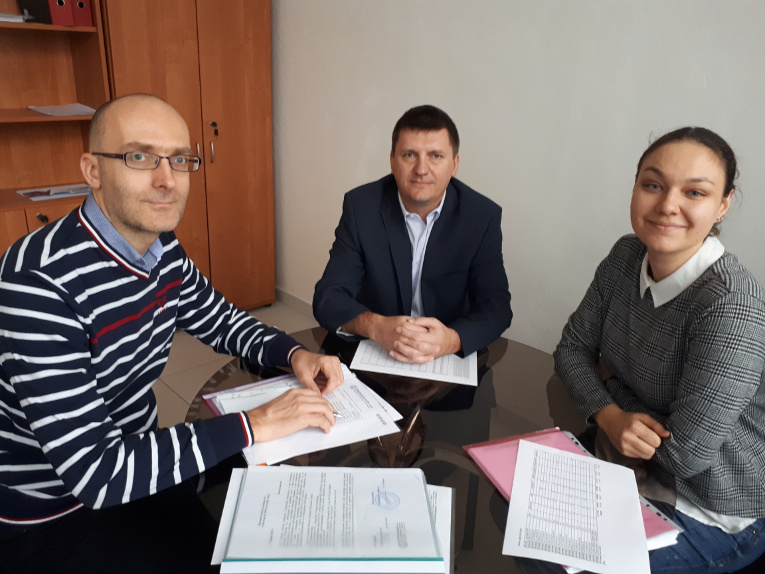 Negotiations in Louny, Czech Republic, from left to right: Jiří Blaga, Commercial Director of Elektroporcelán, Vladimir Romanov and Antonina Maslennikova
We appreciate Elektroporcelán for invitation, warm hospitality and effective cooperation.