Reference of Federal Grid Company
On 16 July 2018, Federal Grid Company of the Unified Energy System of Russia expressed gratitude to Izolyator plant for timely and quality fulfilment of all its obligations in power equipment delivery. Federal Grid Company recommends Izolyator plant as a reliable partner in manufacture and delivery of high-voltage bushings.

The Public listed company Federal Grid Company of the Unified Energy System (FGC UES PJSC) is one of the world's largest power grid companies by power lines network and transformer capacity. FGC UES controls about 142.4 thnd km of high-voltage backbone lines and 944 substations with total installed capacity 345.1 thnd MVA. The company ensures secure power supply of consumers in 77 regions of Russia, with service area nearing 15.1 mln sq km. It is a part of Rosseti PJSC, the largest energy holding in the country, which owns an 80.13 % stake in the company. The headcount of FGC UES is 22 thnd people with the share of university graduates exceeding 60 %. The Chairman of the Board of Directors is Andrey Murov.
TO: Chairman of the Board of Directors
Dear Alexander,
As result of our announced tender for long-term high-voltage bushings supply agreement under the maintenance efficiency programs and reserve stock replenishment at FGC UES PJSC's branches, Izolyator (Massa Ltd) was named the winner.
In connection with signed agreements, Izolyator carried out shipments of 35 - 500 kV transformer and wall HV bushings to the branches of FGC UES PJSC.
All the above mentioned equipment was timely delivered in full as pertains to the agreement. The product quality of Izolyator fully meets all state and sectoral standards and is supported with an affirmative statement of the attestation board of Rosseti PJSC. Over our cooperation, Izolyator has proved a reliable partner and supplier of domestic power eqiupment.
Let me express our gratitude for timely and quality fulfilment of all obligations in delivery of equipment for the needs of FGC UES PJSC to you and the whole team.
Our long-standing successful experience of interaction allows FGC UES PJSC to recommend Izolyator as a reliable partner in production and delivery of high and ultra-high voltage HV bushings.
Sincerely,
Acting Deputy Chairman of the Board
Chief Engineer S. V. Popov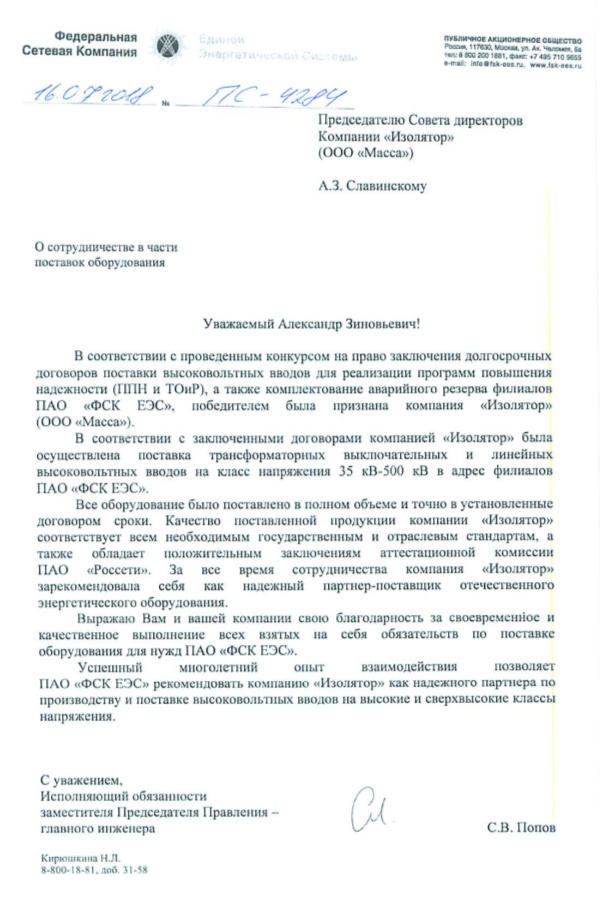 Original Reference letter of FGC UES in Russian (
PDF 206 KB
)
We appreciate FGC UES for their trust and high opinion on our activities and product quality.