Representatives of RusHydro Group Visited Izolyator
On 18 June 2018, representatives of RusHydro Group visited Izolyator plant.

With 38.7 GW installed electricity generation capacity, RusHydro is one of Russia's largest power generating companies. Including the Sayano-Shushenskaya HPP, the largest in Russia, the Company has over 70 renewable energy source (RES) facilities: 9 power stations in the Volga-Kama Cascade with a total installed capacity of more than 10,167 MW, the Zeiskaya HPP (1,330 MW) — the first large-scale hydro-power plant in the Russian Far East, the Bureiskaya HPP (2,010 MW), the Novosibirsk HPP (455 MW) and tens of HPPs in the North Caucasus.
RusHydro was represented by Deputy Chief Engineer Dmitry Kolesnikov and Head of Electrical Equipment Directorate Alexander Okhrim.
At Izolyator, the guests were received by Chairman Alexander Slavinsky, R&D Director Konstantin Sipilkin, Director of Partner Relations Oleg Bakulin and Deputy Quality Director Vladimir Ustinov.
During the visit, the guests familiarized themselves with the technology of high-voltage bushings production, particularly, Izolyator's research activities and prototyping as well as specifics of operation of high-voltage bushings with solid RIP insulation at power facilities.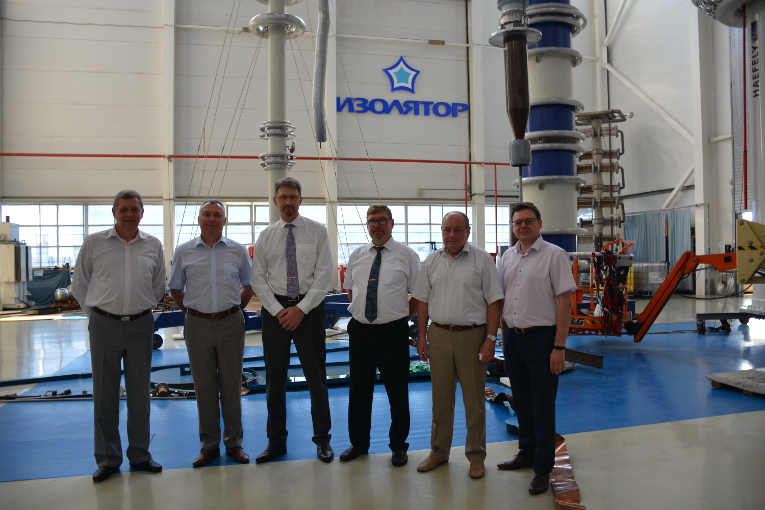 RusHydro Group representatives at the test center of Izolyator plant, L-R: Konstantin Sipilkin, Alexander Slavinsky, Deputy Chief Engineer at RusHydro Group Dmitry Kolesnikov, Head of Electrical Equipment Directorate at RusHydro Group Alexander Okhrim, Vladimir Ustinov and Oleg Bakulin
We appreciate RusHydro Group representatives for the plant visit and a constructive dialogue.