Talks at ATEF Group
On 18 December 2018, Head of OEM Sales at Izolyator Maxim Zagrebin had talks with the management of the Azerbaijani industrial group of companies ATEF.

The ATEF Group is a worldwide company having nine production plants located in Azerbaijan as well as other production plants located in Russia and Kazakhstan. Beside of large product portfolio the ATEF group is also specialized in Turn-key projects for Power Transmission, Distribution and Generation segments. Having own engineering and construction resources ATEF is able to handle complete Railway projects for electrification, catenary and for signalization. The company exports its electrical infrastructure expertise and product range including transformers, reactors, switchgears, CTS and components to worldwide customers. ATEF Group has grown from a single transformer plant to a worldwide manufacturer having Eleven production plants with numerous divisions that embrace the latest technology and production methods. The ATEF Group is headquartered in Baku, Azerbaijan.
ATEF was represented by:
Mustafa Gunay, General Director,
Mazair Mamedov, Deputy Chairman of the Board,
Nikolay Molodetsky, Deputy Chairman of the Board.
From the Large Transformer Plant of ATEF Group, these colleagues also participated:
Eldar Abbasov, General Director,
Pavel Butyaev, Chief Process Engineer,
Subhan Jafarov, Process Engineer.
At the talks, the sides discussed the results of joint activities in 2018 and plans of cooperation development in the coming year.
The sides marked successful results of cooperation, among those — Izolyator bushings installation on a 330 kV transformer, first made by ATEF Group.
Discussing the plan of future deliveries, the sides analyzed organizational and technical aspects of coordination, clarified strategic objectives and tasks of creation and sales promotion of modern power equipment.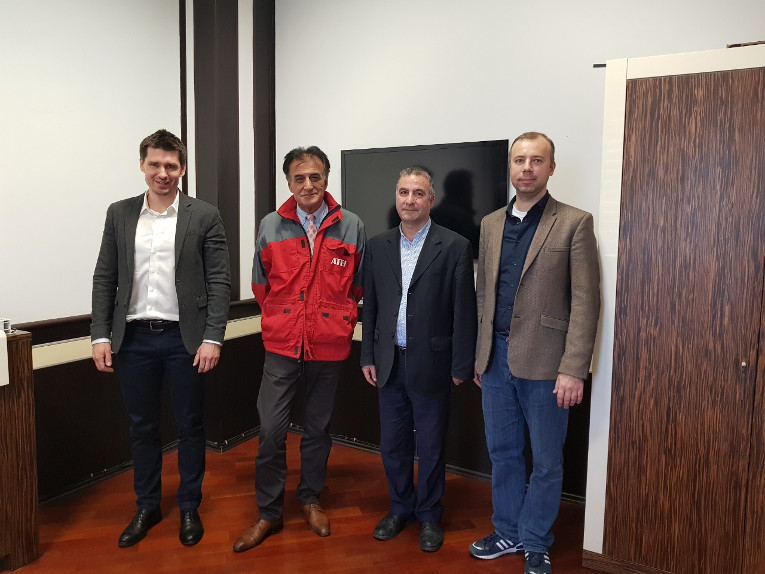 Participants of talks at ATEF Group, L-R: Maxim Zagrebin, General Director of ATEF Group Mustafa Gunay, Chief Process Engineer at Large Transformer Plant Pavel Butyaev and Process Engineer at Large Transformer Plant Subhan Jafarov
We appreciate ATEF Group for an invitation and efficient cooperation.