Visit of MPK Plant Management
On 19 June 2018, management representatives of MPK plant visited Izolyator.

MPK Plant Ltd in Kaluga makes cast brass items. It delivers contact terminals to Izolyator plant for high-voltage bushings.
On MPK plant side:
Deputy General Director Vitaly Kormyshenko,
Marketing Director Nikita Olkhovsky,
Chief Process Engineer Andrey Stavrov.
At Izolyator, the guest were received by Deputy Commercial Director Dmitry Abbakumov and Head of Procurement Vladimir Romanov.
The sides rectified the product range and volumes of shipments of MPK plant, technical and commercial aspects of practical coordination between the companies and outlined priorities in development of long-term cooperation.
The visitors got an introduction to the century-long history of Izolyator plant and its modern development.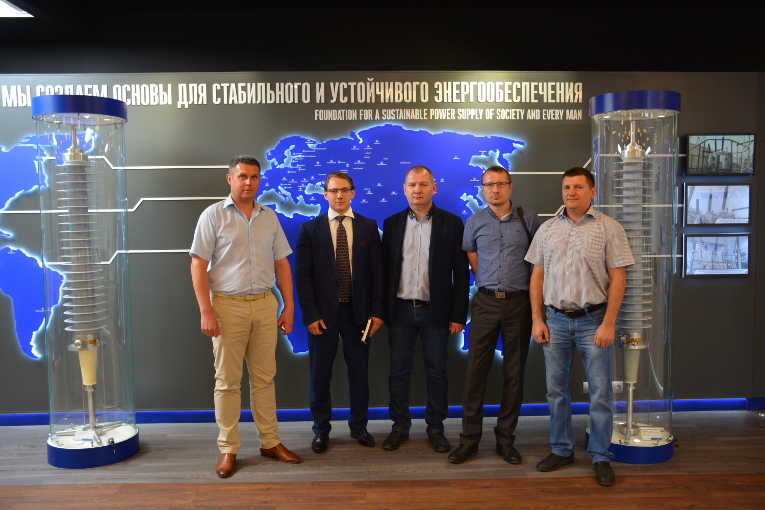 MPK plant management representatives at the museum of Izolyator, L-R: Dmitry Abbakumov, Marketing Director at MPK plant Nikita Olkhovsky, Deputy General Director at MPK plant Vitaly Kormyshenko, Chief Process Engineer at MPK plant Andrey Stavrov and Vladimir Romanov
The hosts arranged for a plant tour, familiarizing the guests with modern production and testing technologies of high-voltage bushings with solid RIP and RIN insulation.
The sides highly appreciated the visit results, marking a successful progress of cooperation, and expressed readiness to further development of mutually beneficial business relations.