Visit of Wacker Chemie AG Representatives
On 23 July 2018, representatives of the worldwide Wacker Chemie AG visited Izolyator plant.

Wacker Chemie AG is a multinational chemical company, headquartered in Munich, Germany. The corporation's division Wacker Silicones ranks among the world's largest manufacturers of silanes and silicones. Product portfolio ranges from silanes through silicone fluids, emulsions, elastomers, sealants and resins to pyrogenic silicas. Thanks to their highly diverse properties, silicones offer virtually unlimited potential for customized solutions in numerous sectors. Wacker Silicones supplier components of organosilicon compound for high-voltage bushings' polymer external insulation making.
Wacker Chemie AG was represented by Sales Director SER Jüergen Ismeier and Sales Manager of Wacker Chemie Rus Mikhail Spirin.
SER Dpt (Southeast Region) operates in Eastern Europe, Africa and South America.
At Izolyator, the guests were received by:
Deputy Commercial Director Dmitry Abbakumov,
Head of Purchasing Vladimir Romanov,
Purchasing Manager Antonina Maslennikova.
The talks opened with an overview of the latest trends on the market of silicone surface-active agents.
Then, the sides proceeded to a discussion of the status of scheduled deliveries of silicone oil and specified required quantities of that product in the near future and longer perspective.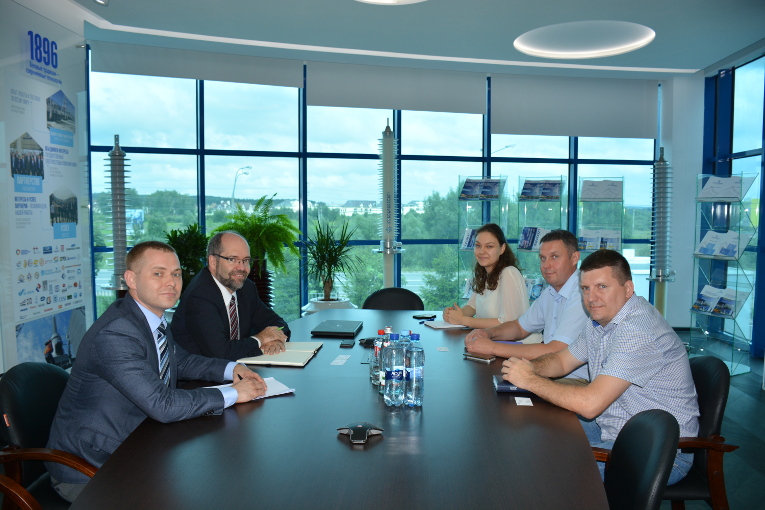 Talks at Izolyator plant with Wacker Chemie AG representatives, L-R: Sales Manager of Wacker Chemie Rus Mikhail Spirin, Sales Director SER Jüergen Ismeier, Antonina Maslennikova, Dmitry Abbakumov and Vladimir Romanov
The receiving side arranged for a plant tour, where the guests were demonstrated modern technologies of production and testing of high-voltage bushings with solid RIP and RIN insulation.
It is a shared opinion that the business meeting went productively, so the companies will continue to develop a successful cooperation on a mutually beneficial long-term basis.