Visit of Wacker Silicones Representative
On 23 March 2018, Wacker Silicones representatives visited Izolyator plant. The company is a supplier of insulation components.

Wacker Silicones ranks among the world's largest manufacturers of silanes and silicones. Product portfolio ranges from silanes through silicone fluids, emulsions, elastomers, sealants and resins to pyrogenic silicas. Thanks to their highly diverse properties, silicones offer virtually unlimited potential for customized solutions in numerous sectors. Wacker Silicones supplier components of organosilicon compound for high-voltage bushings' polymer external insulation making. Wacker Silicones is a part of Wacker Chemie AG group of companies.
Wacker Silicones was represented by Dr. Jens Lambrecht, Technical Manager (Rubber Solutions, Engineering Silicones) and Mikhail Spirin, Sales Manager.
On Izolyator side, the visitors were received by:
Alexander Slavinsky, Chairman of the Board of Director,
Dmitry Abbakumov, Deputy Commercial Director,
Vladimir Romanov, Head of Purchasing,
Antonina Maslennikova, Purchasing Manager.
The sides discussed progress on current deliveries of insulating compound components and aspects of cooperation between the two companies.
The partners also detailed expected deliveries to match the demands of Izolyator plant.
During the traditional plant tour, the guests were introduced to the unique technologies of high-voltage bushings with solid insulation production. The hosts paid the most attention to demonstration of external polymer insulation making using Izolyator original technology.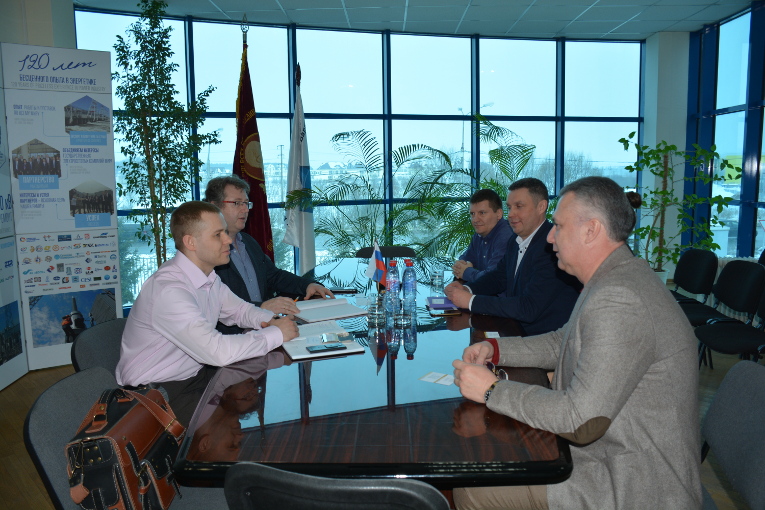 Business meeting at Izolyator plant, L-R: Mikhail Spirin, Manager, Wacker Silicones, Dr. Jens Lambrecht, Technical Manager, Wacker Silicones, Vladimir Romanov, Dmitry Abbakumov, Alexander Slavinsky