Visit to Asia Trafo Plant
On 25 September 2018, Izolyator representative visited Asia Trafo transformer plant in Kazakhstan.

AsiaTrafo — the largest plant in Central Asia for the production of transformer equipment. The main products of the plant are power oil transformers and autotransformers of voltage class 110, 220, 500 kV with capacity up to 500 MVA, as well as reactors. The design capacity of the plant is more than 12 000 MVA per year. Advanced and environmentally friendly technologies have been introduced into production, many of which have recently begun to be used by world manufacturers. The latest production management system is installed on the basis of modern software and experience of world leaders in mechanical engineering, from the development of design documentation and ending with the shipment and service of manufactured products. Asia Trafo is located in Shymkent. AsiaTrafo is part of Alageum Electric holding company.
Dmitry Karasev, CIS & Baltics Sales Manager represented Izolyator.
The guest was received by:
Technical Director of Alageum Electric dpt Bauyrzhan Khudaibergenov,
Technical Director of Asia Trafo plant Omar Asanov,
Procurement Manager of Asia Trafo Ascar Kobdikov.
The sides discussed the scope and volumes of deliveries of Izolyator HV bushings, planned for 2019.
At a plant tour, the guest familiarized himself with the most advanced equipment and technologies of power transformer equipment production.
Asia Trafo and Izolyator representatives put high expectations on cooperation prospects, expressing mutual interest and intention to actively develop beneficial business relations.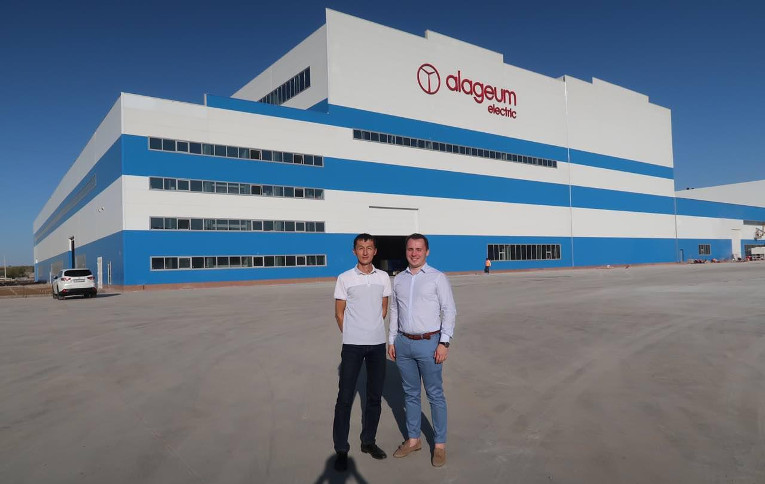 Procurement Manager at Asia Trafo plant Ascar Kobdikov (L) and Dmitry Karasev
We appreciate Asia Trafo for an invitation and a strive to cooperation development.