Visit to Kentau Transformer Plant
On 26 September 2018, Izolyator representative visited Kentau Transformer plant in Kazakhstan.

Kentau Transformer Plant (KTP) is known as the leading Kazakhstan producer of the transformer equipment of wide application delivered for all branches of economy, including power industry, metallurgy, mechanical engineering, transport, oil and gas complex, housing and communal sector. The equipment with the Kentau transformer plant brand reliably works in all territory of the CIS and Central Asia. The list of production of plant reached more than 400 names. The main strategy of KTP is delivery to the market of the best electrotechnical production conforming to requirements of consumers for quality, the price, delivery conditions and the provided service. Kentau Ttransformer Plant is part of Alageum Electric holding company.
Dmitry Karasev CIS & Baltics Sales Manager represented Izolyator.
The guest was received by:
Technical Director Nurbol Tlemisov,
Procurement Manager Baiken Kalauov,
Purchasing Specialist Maksat Kurmanaliev.
The meeting participants discussed results of joint activities in the past three quarters of 2018 and outlined delivery plans of Izolyator HV bushings in the fourth quarter. They also spoke about cooperation plans in 2019.
The guest saw the production facility where he familiarized himself with the manufacturing process of modern transformer equipment production.
The sides, having marked their successful cooperation in development and manufacture of reliable and highly demanded power equipment, expressed a common intention to keep developing business relations on a long-term basis.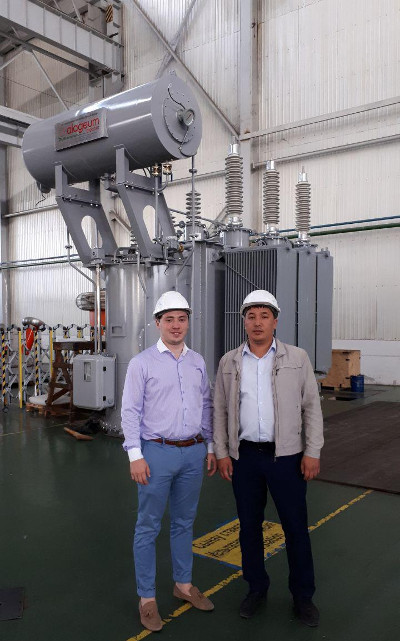 Dmitry Karasev (L) and Purchasing Specialist at KTP Maksat Kurmanaliev by a KTP transformer with Izolyator HV bushings
We appreciate Kentau Transformer plant for an invitation and a productive cooperation.