Talks With ATEF Group Management in Azerbaijan
On November 19, 2019, Maxim Zagrebin, Head of OEM Sales at Izolyator plant, held talks with the executives of the ATEF industrial group of companies in Baku, Azerbaijan.

The ATEF Group is a worldwide company having nine production plants located in Azerbaijan as well as other production plants located in Russia and Kazakhstan.
Beside of large product portfolio the ATEF group is also specialized in Turn-key projects for Power Transmission, Distribution and Generation segments. Having own engineering and construction resources ATEF is able to handle complete Railway projects for electrification, catenary and for signalization.
The company exports its electrical infrastructure expertise and product range including transformers, reactors, switchgears, CTS and components to worldwide customers.
ATEF Group has grown from a single transformer plant to a worldwide manufacturer having Eleven production plants with numerous divisions that embrace the latest technology and production methods.
The ATEF Group is headquartered in Baku, Azerbaijan.
This time the guest was received by:
Deputy Chairman of the Board Nikolay Molodetskiy,
Director Strategic Sourcing & Logistics Department Hussain Nayani,
Sales Director Farid Aliyev,
Director — Oil filled Transformer / Transformer Design Anagha Dixit,
Procurement Specialist Zaka Ismayil Bayli.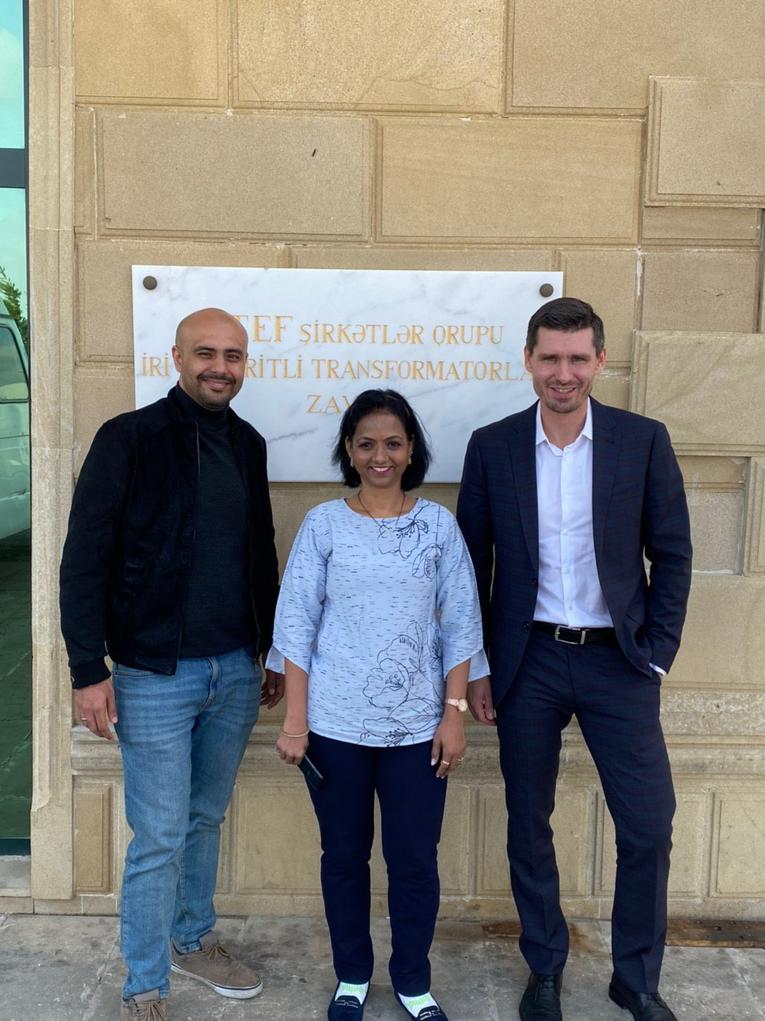 Participants of the talks at ATEF Group of companies in Azerbaijan, L-R: Director Strategic Sourcing & Logistics Department at ATEF Group Hussain Nayani, Director — Oil filled Transformer / Transformer Design at ATEF Group Anagha Dixit and Maxim Zagrebin
Our colleague made an acquaintance and established business contacts with new representatives of the management of the ATEF Group of companies.
Then the parties discussed the results of the joint activities achieved so far, noting the successful pace of the mutually beneficial cooperation. This year, for the first time, 126 and 252 kV transformer bushings with internal RIP insulation were delivered to the group.
The ATEF Group of companies and Izolyator plant are tied with strong and constantly developing business relations. Thanks to the constructive policy of the group's management, the effective interaction has been established that opens up broad prospects for the implementation of joint projects of any scale.