Visit of representatives of Polskie Sieci Elektroenergetyczne S.A. and Eltel Networks
On February 19, 2019, Izolyator was visited by representatives of the Polish state power grid company Polskie Sieci Elektroenergetyczne S.A. and the Polish engineering company Eltel Networks.

Polskie Sieci Elektroenergetyczne S.A. (PSE S.A.) is state owned power grid company. The subject of the PSE S.A. activity is to provide the services of electricity transmission in compliance with the required criteria of the security of the Polish Power System operation (Krajowego Systemu Elektroenergetycznego). As of January 1, 2019, PSE S.A. operates 267 power lines with a total length of 14,695 km, including 750, 400, 220 kV AC lines, as well as part of the 450 kV DC Poland — Sweden submarine line.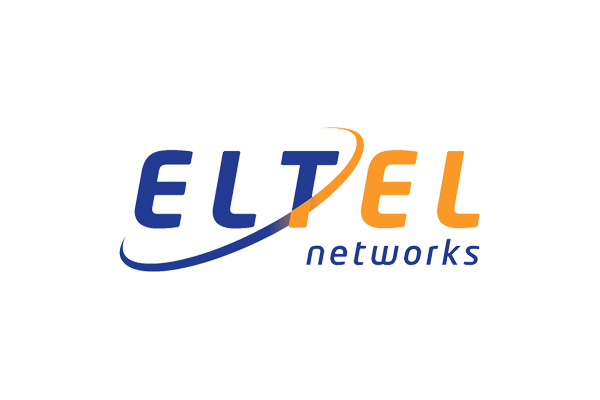 In power sector in Poland there are two companies operating under Eltel Networks brand. Eltel Networks offers construction and maintenance services for the companies in the power industry reaching almost 100 % of their revenue from this market segment. Thanks to the close cooperation of companies operating in power sector under Eltel Networks brand in Poland the range of offered services is very wide. In order to meet the needs of key customers — Polish Power Grid (Polskie Sieci Elektroenergetyczne S.A.) and distribution utilities all around Poland — Eltel Networks companies are currently extending and improving the implementation of new technologies as for example live working on the 220 kV and 400 kV lines and equipment and adding new services to their offer.
PSE S.A. was represented by:

Maciej Lechman, Main Specialist, Warszawa;
Dawid Pogodzinski, Transformer Specialist, Radom;
Andrzej Zimka, Area Specialist, Radom.
Eltel Networks was represented by Ireneusz Zawadski.
The business part of the meeting was opened with a presentation of the Izolyator plant, during which Manager of International Business Development Department Alexander Znamenskiy, paid particular attention to the technical characteristics and advantages of RIP bushings, as well as the benefits of cooperation with Izolyator and its client-oriented business approach in work with partners.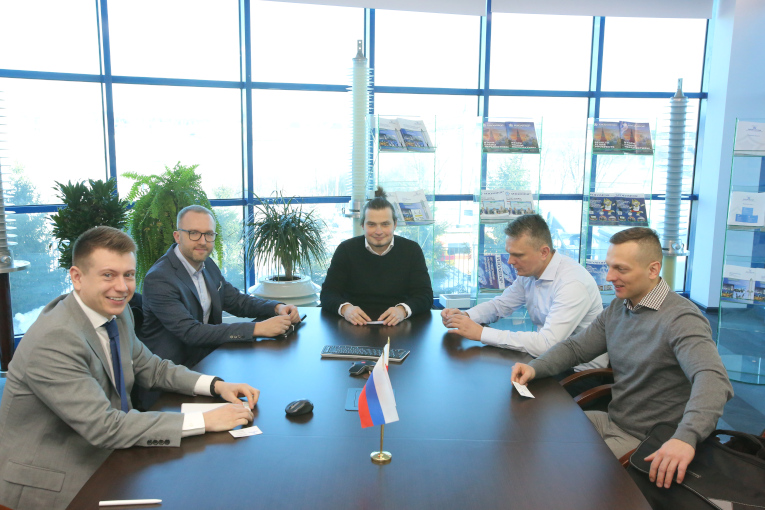 Representatives of Polish companies PSE S.A. and Eltel Networks at the Izolyator corporate presentation
Then our guests took a tour of the enterprise's production facilities, during which the latest technologies of RIP-bushings production were presented to them.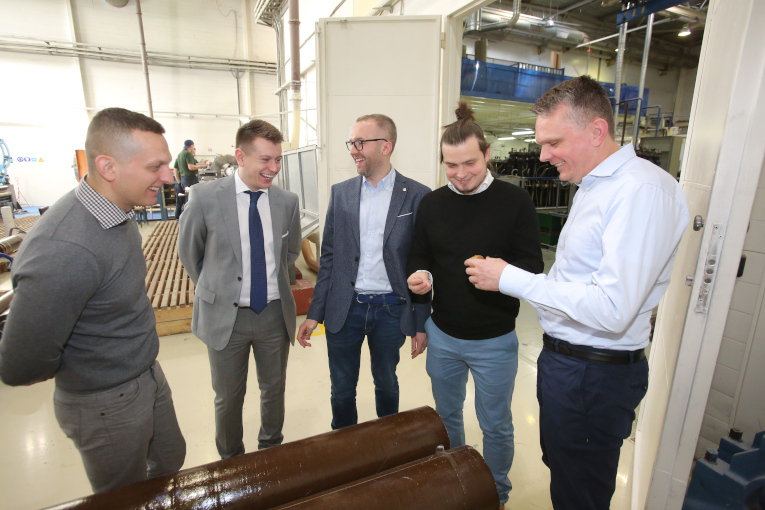 Representatives of Polish companies PSE S.A. and Eltel Networks during presentation of high-voltage bushings with internal RIP insulation production technology.
Guests paid particular interest to the new equipment developed by Hübers for the manufacture of external polymer insulation put into operation in October 2018. When designing this equipment, innovative technical solutions were used to ensure the highest precision and quality of the production process. Full automation of the process guarantees high quality of manufactured insulation that does not require additional processing, and a significant reduction in production cycle.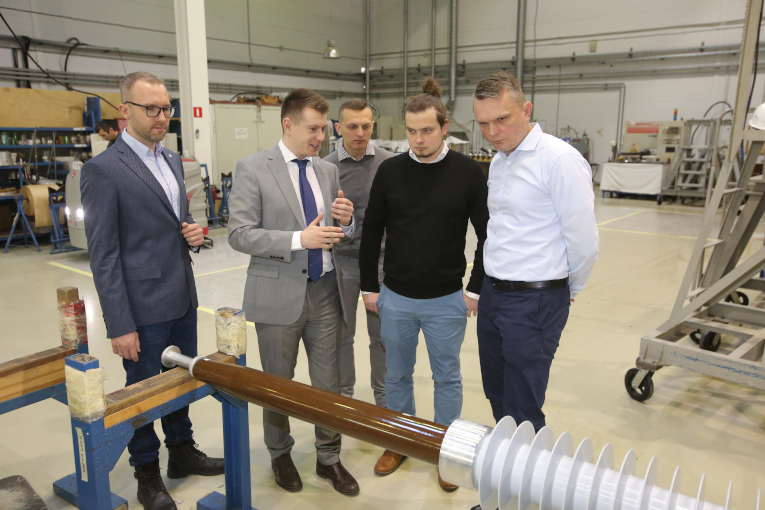 Representatives of Polish companies PSE S.A. and Eltel Networks at external polymer insulation for high-voltage bushings production facility
After the excursion to the Izolyator test center, the guests took part in the standardized testing of a 550 kV bushing designed and manufactured for PSE S.A. The tests were carried out in full compliance with IEC Standard 60137:2017 and ended successfully.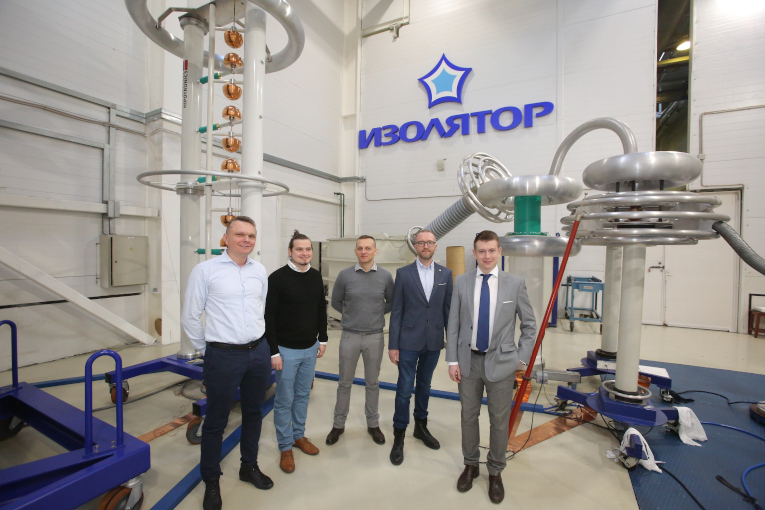 Representatives of Polish companies PSE S.A. and Eltel Networks at the Izolyator test center
At the Izolyator corporate museum, visitors got acquainted with the century-old history and today's achievements of the company.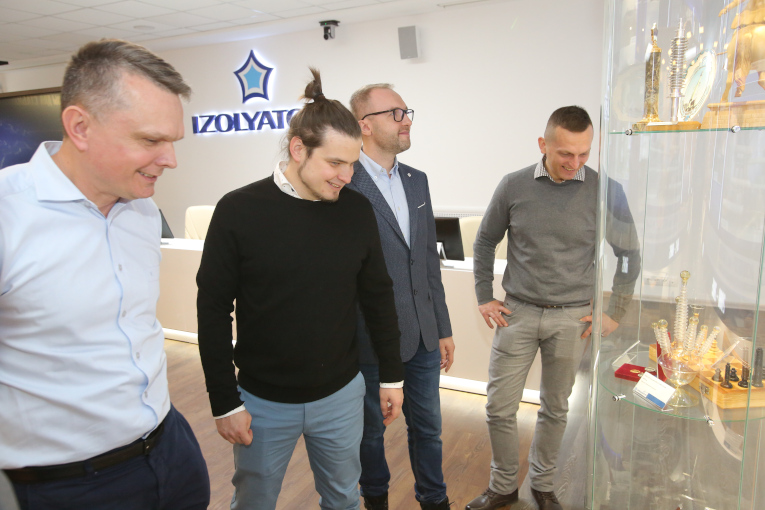 Representatives of Polish companies PSE S.A. and Eltel Networks at museum of Izolyator
All events of the business visit were a good experience and an example of fruitful dialogue with an open exchange of useful information.
Polish guests noted the highest technological level and significant production capacity of Izolyator plant, which develops and produces innovative power equipment in compliance with strict EU and international standards.
Both parties expressed mutual interest in business development and outlined the next steps for future cooperation.