A visit to the ZREW Transformers plant in Poland
On June 18, 2019, Alexander Znamenskiy, Manager of International Business Development Department at Izolyator, visited the ZREW Transformers plant in the city of Lodz in Poland.

ZREW Transformatory S.A. is company from Poland that has operated in the market of transformers for 60 years.
The Company's core business is the manufacture, repair, upgrade and full diagnostics of oil-immersed power transformers.
ZREW produces power transformers for distribution networks, unit transformers for power plants and combined heat and power plants with power rating of up to 120 MVA and voltage up to 145 kV, and special transformers, furnace transformers and transformers adapted to power rectifier units.
ZREW Transformatory S.A. is part of R&S International Holding.
The Plant is located in Lodz.
Izolyator's cooperation with ZREW Transformers has been going on for 3 years. The plant buys high-voltage "Izolyator" bushings, mainly 110 kV bushings with polymer and porcelain external insulation.
The visit of Alexander Znamenskiy took place according to the preliminary agreement of both parties and the plan for the development of export sales in Eastern Europe.
Guest was welcomed by:
Procurement Specialist Marek Popecki,
Component Supply Manager Klaudia Muszynska,
Transformer design engineer Kryzstof Kowlczyk.
The ZREW Transformers plant has confirmed the high quality of Izolyator products. Fast lead time and the willingness to meet customer requirements were noted as well: the Izolyator bushings with RIP-insulation are best-in-class in terms of delivery speed and price.
Both parties confirmed their interest in further cooperation, while representatives of the ZREW Transformers plant noted a trend towards a switch to RIP-insulated bushings within Poland.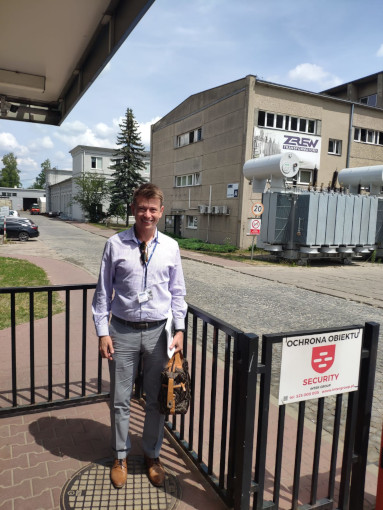 Alexander Znamensky at the ZREW Transformers plant in Lodz in Poland
We appreciate the ZREW Transformers plant for the invitation and the achieved results of cooperation!