Izolyator plant has turned 125 years old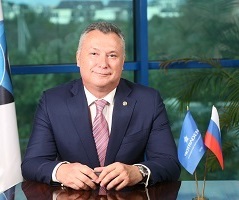 Chief Executive Officer of Zavod Izolyator LLC
Chairman of the Board of Directors of Massa Izolyator Mehru Pvt. Ltd.
a Russian-Indian Joint Venture
Chairman of the Board of Izolyator Corporate University
Head of CIGRE National Study Committee D1

Dear colleagues, associates, partners, friends,
Exactly 125 years ago, on June 6, 1896, the Izolyator plant was founded.
The XIX century was followed by the XX, followed by the XXI ... From rare electric lights on city streets to megalopolises drowning in a sea of light, from a small factory on the outskirts of Moscow to one of the world leaders in the development and production of modern high-voltage insulating equipment — this is the historical path of continuous creation and development, passed by the enterprise.
Epochs changed each other, time threw down challenges, but one thing remained unchanged — with each new product leaving the factory gates, there was more light and warmth in the world. It has always been and will be so.
The 125-year mark on the calendar is a great date, and we have every right to be proud of the glorious history of the company and those who were its creators.
First of all, we thank our veterans — people of legendary industriousness and dedication! It was you who paved the way into our day, you set an unfading example for today's and future generations of employees of the enterprise. I wish you health, energy and good spirits!
On this significant day, I would like to thank our entire team, which has repeatedly proved its ability to solve problems of any complexity and is aimed at continuous development! I am grateful to everyone who tirelessly gives their strength and knowledge for the common cause, who sincerely shares our corporate values and daily strives for new heights of professional excellence.
We wish to thank all our Russian and foreign partners with whom we have come hand in hand to this anniversary and with whom we equally share all our achievements and victories. Thank you for your goodwill for cooperation, reliability and trust, the ability to see the future and join efforts on the way to a common goal! Our fruitful cooperation is the key to common future!
And in that future, we will always be supported by the invaluable experience born of the centuries-old history of the Izolyator plant!