Talks at Sintez-Oka Trading House
On 29 September 2020, Izolyator representatives held talks at the Sintez-Oka Trading House in Dzerzhinsk, Nizhny Novgorod Region.
The trader is a part of Sintez OKA chemicals holding.

The key business line of the Sintez OKA Group includes production and marketing of amines. The amine market leadership has been attained due to the long-term experience of the group's manufacturing plants as well as development and implementation of innovative chemical production technologies in Russia.
Sintez OKA Group of companies incorporates production facility with a power plant situated in Dzerzhinsk, Nizhny Novgorod region, research center and investment project development center in Saint-Petersburg.
The Sintez OKA Group supplies the Izolyator plant with triethanolamine as an accelerator for the curing of an epoxy compound in making of the solid internal insulation of high-voltage bushings.
Izolyator was represented by Head of Procurement Department Dmitry Karasev and Head of Technical Support Service Artem Mashinistov.
Russia Natalya Kalinina, Head of Sales Section, Russia at Sintez-Oka trading represented the partner company.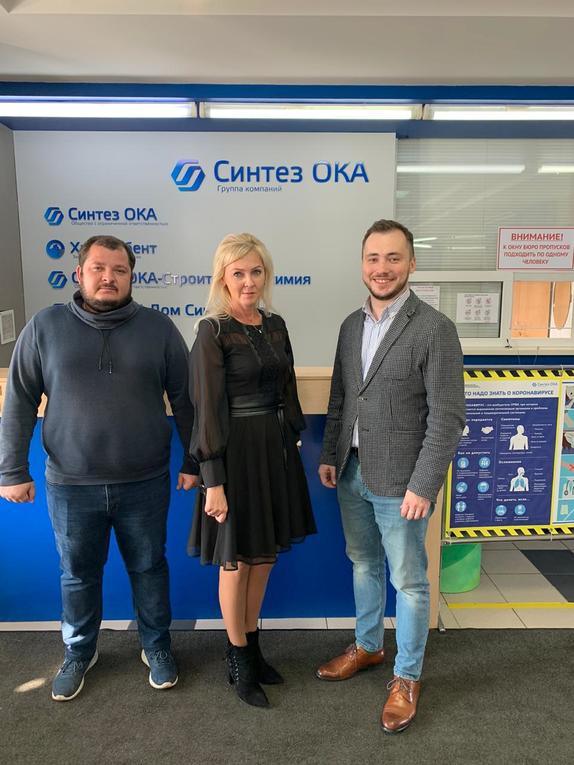 Izolyator representatives at the Sintez-Oka Trading House in Dzerzhinsky, Nizhny Novgorod region, L-R: Artem Mashinistov, Natalya Kalinina and Dmitry Karasev
The parties discussed progress of existing agreements, noting the successful nature of the two companies' cooperation.
The talks were dedicated to discussing planned volumes of products of the Sintez OKA group of companies to be supplied for the needs of Izolyator plant in 2021.
The sides agreed the scope of supplies and the procedure for interaction in accordance with the planned production plan of high-voltage bushings.