Seminar of Izolyator Group for Sakhalinenergo technical specialists
On 26 October 2021, Izolyator Group held a seminar for technical specialists of the Far Eastern energy Sakhalinenergo Company in Yuzhno-Sakhalinsk.

The Far Eastern energy Sakhalinenergo Company is the main power supply company on Sakhalin Island. The company's key activities include production, transmission and sale of electrical energy, and thermal energy production. The installed electric capacity is 575.24 MW, the installed heat capacity is 783.5 Gcal / h. The electrical networks exceed 7 thousand km. The Sakhalinenergo is headquartered in Yuzhno-Sakhalinsk. Sakhalinenergo is part of the RusHydro Group.
The Izolyator Group was represented by Director General of Izolyator-AKS Konstantin Murzin and Director for Partner Relations of Izolyator Group Oleg Bakulin.
At the head office of Sakhalinenergo, the guests were received by Nikolay Burkhovetsky, Chief of the Electrical Service Sector, after which a seminar was held with the participation of technical specialists from the company's divisions and branches.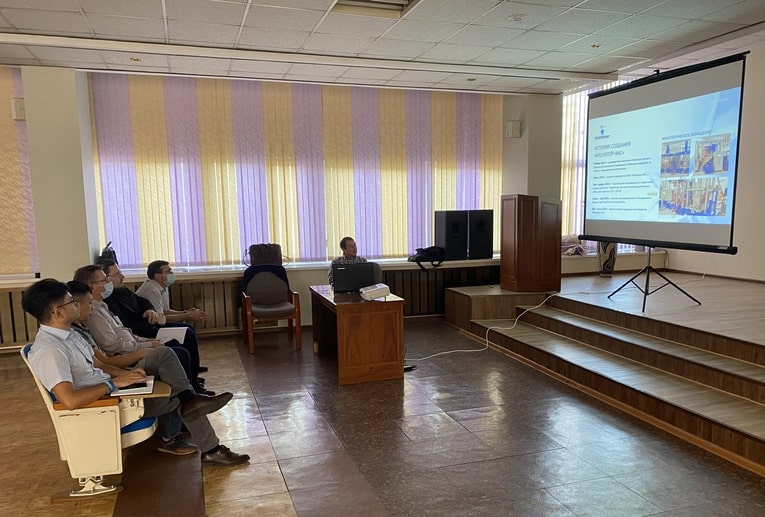 Seminar of Izolyator Group at the energy Sakhalinenergo Company in Yuzhno-Sakhalinsk
During the seminar, the following topics were discussed in detail, reflecting the main activities of the Izolyator Group:
- high-voltage bushings 12 to 252 kV: features of operation, installation, diagnostics and storage. New type of internal insulation of bushings — RIN;
- high-voltage cable accessories: cable joints, outdoor terminations, cable connectors 126 to 252 kV;
- a new stage of development — Izolyator Group of Companies and its structure. A complete range of services company: from equipment development to maintenance.
An extensive professional dialogue took place on all the topics discussed. In addition, the specialists received comprehensive answers to all questions about individual nuances of operation of Izolyator high-voltage bushings, which are used at Sakhalinenergo's power facilities.
By all accounts, the seminar was very practical for all its participants. As a result of the event, the two companies worked out ways and outlined prospects for further cooperation development.