Testing Lab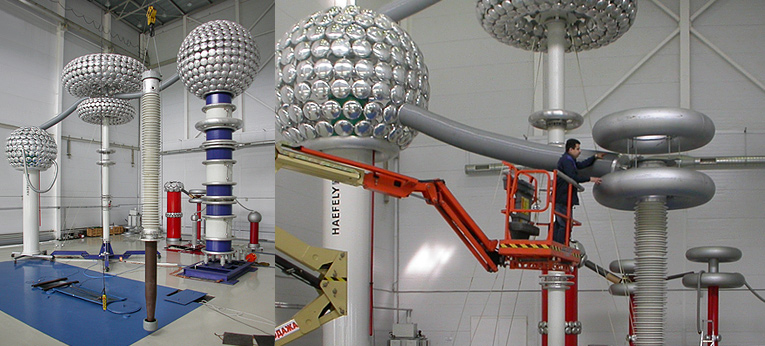 Izolyator Testing Lab specializing in high-voltage electric equipment has been accredited by the Federal Agency on Technical Regulating and Metrology with regard to engineering competence and meets requirements set out by GOST ISO/IEC 17025-2009.
The Testing Lab conducts testing of 24-1200 kV AC and DC bushings to confirm compliance with Russian and international standards. The Lab also conducts testing of current transformers, voltage transformers, and porcelain covers in line with the accreditation field.
Primary tests:
Tests with alternating voltage of mains frequency 50 Hz up to 1200 kV;
Tests with direct current voltage up to ±1600 kV;
Tests with the full lightning impulse or with the chopped lightning impulse 1.2/50 µs;
Tests with switching impulse 250/2500 µs;
Tests with rated current up to 8 kA;
Measuring of key electrical specifications (capacitance, dielectric loss tangent, partial discharge factor, resistance and impedance, etc.);
Thermal stability tests;
Tests for humidification;
Leak tightness tests;
Mechanical tests;
Other types of tests.
Along with:
The manufacturers of key testing and measuring equipment are Haefely Test AG (Switzerland), Hipotronics Inc. (U.S.), TUR (Germany) and other Russian and worldwide manufacturers. All testing equipment and measuring instruments comply with standards' requirements.
Specific testing >> Our Partners
The Central Plant Laboratory conducts:
Insulating oil examinations;
Study if component materials are compatible with insulating oil;
Receiving inspections for materials;
Chemical analysis of insulating components;
Other testing.