Visit by Representatives from IDGC of Centre and Volga Region
On 22 May 2014, Izolyator company was visited by representatives from Interregional Distribution Grid Company of Centre and Volga Region JSC, a subsidiary of Russian Grids Company (Rosseti)
The delegation comprised:
- the head of Operations Department at IDGC of Centre and Volga Region Aleksey Mishanin,
- deputy manager of Operations service of the Vladimirenergo regional branch Igor Bukin,
- the head of diagnostics and measurements unit within Operations service of the Nizhnovenergo regional branch Andrey Lyamin,
- category 2 engineer at Operations service of the Ryazanenergo regional branch Mikhail Mishkin, and
- representative from Euroinvest LLC Vladimir Aidobolov.
The agenda included a seminar on the specifics of installation and operation of Izolyator-made high-voltage bushings with RIP insulation and a tour of the company covering all stages of the production process.
The onsite tour of Izolyator company production facilities was conducted by Pavel Kiryukihn, the company's Deputy Chief Designer. The delegation was accompanied by Oleg Bakulin, Deputy Sales Manager.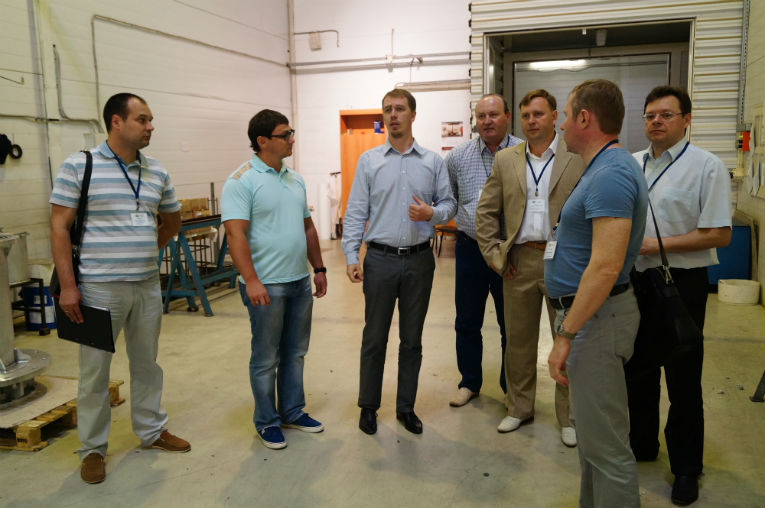 Left to right: M. Mishkin, V. Aidobolov, P. Kiryukihn, I. Bukin, A. Lyamin, A. Mishanin, O. Bakulin