20th International conference of TRAVEK Association
Izolyator Company took part in the 20th international scientific, technical and practical conference organized by the TRAVEK Association for Business Cooperation titled "Intellectual Power Engineering, Automation, High Voltage Equipment Under Control and Switching Gear". The conference was held in Moscow on 11–12 November 2014.
TRAVEK, the international association for transformers, high-voltage devices, power-engineering ceramics and other components and materials was established on 11 April 1991 to promote business cooperation encouraging sales, production and technological development, and ensure product competitiveness in international markets. Izolyator Company is a collective member of TRAVEK Association, and the company's Chairman of the Board of Directors A.Slavinsky holds the position of the Association's vice-president.
The conference was sponsored by the Russian Academy of Sciences, The Russian Academy of Power-Engineering Sciences, the Ministry of Energy, the Ministry of Industry and Trade, Rosseti JSC and JSC FGC UES.
One of the speakers at the conference was Izolyator Company's Deputy Quality Manager Vladimir Ustinov who delivered reports titled "Endurance Tests for Bushings with Solid RIP Insulation. The Effect of Electrical, Heat and Mechanical Factors for Long-Term Electrical Strength. New Requirements of the IEC" and "Technical Capability of the Izolyator Company Testing Center".
At the end of the conference, the participants passed resolutions reflecting the main issues and development prospects for the industry. These resolutions will be sent to the competent government bodies, Rosseti JSC, JSC FGC UES and other Russian-based organizations.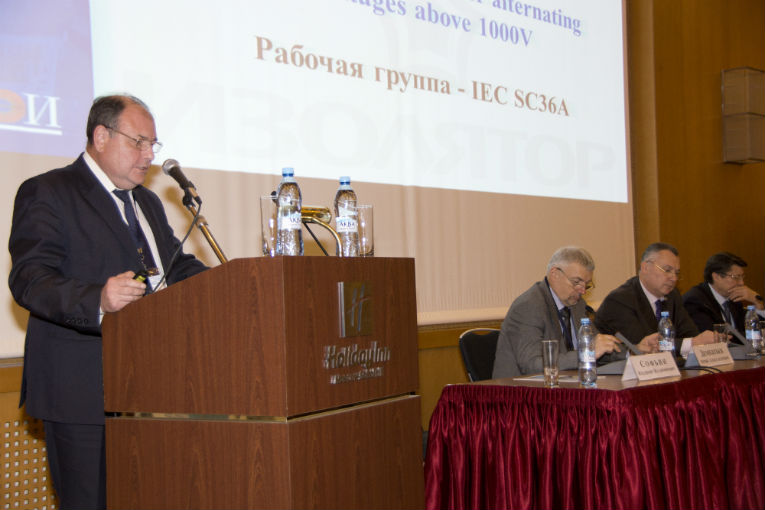 Vladimir Ustinov speaking at the 20th conference of TRAVEK Association