Metal-Expo'2017 Exhibition
On 14–17 November 2017, the Deputy Commercial Director of Izolyator Dmitry Abbakumov visited the 23d Metal-Expo 2017 International Exhibition in Moscow.

Metal-Expo'2017 International Industrial Exhibition in Moscow gathers leading metals companies, pipe and metal ware plants, rolled aluminium and alloy products, suppliers of metal and steel service centers, builders, machine building companies, oil and gas companies as well as representatives of other sectors of economy annually. Metal-Expo shows the vast range of ferrous and non-ferrous metallurgy products, modern equipment and technologies for smelters, metal cutting and steel service centers.
530 companies from 35 countries of the world took part at the exhibition. The exposition presented a vast range of producers and suppliers of ferrous and nonferrous metals, equipment for metallurgy and metal treatment, suppliers of raw materials for metallurgy and companies from related industries. 28.5 thousand specialists from 60 countries of the world and 320 cities of Russia visited the exhibition.
Dmitry Abbakumov familiarized himself with the exposition and had several business meetings with representatives of partner companies, including:
Irina Borunova, Commercial Director at Alfa-Metal;
Dmitry Trischenko, General Director at Industrial procurement Alfa-Metal Ltd;
Leonid Antonov, General Director, Tochnost Ltd;
Andrey Britzko, Deputy General Director on Development and Production at Tochnost Ltd;
Tatyana Kuchina, Head of Sales Dept at Kamensk-Uralsk plant of nonferrous metals treatment.
All those companies are reliable suppliers of Izolyator plant.
The sides discussed progress of current shipments under existing contracts and plans of further cooperation.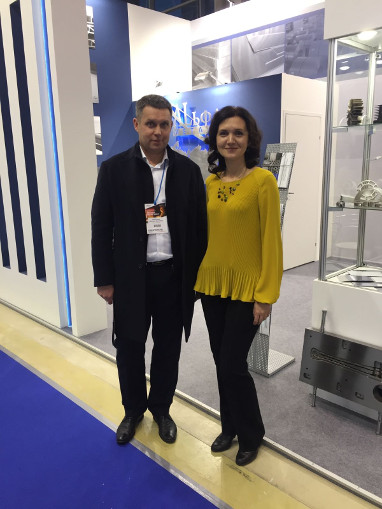 Dmitry Abbakumov and Irina Borunova at Metal-Expo 2017
We appreciate organizers of Metal-Expo 2017 for the event execution at the highest professional level!