High-voltage RIN bushings for power transformers Catalogue
On 2 November 2020, 'The new generation high-voltage bushings with RIN-insulation for power transformers' Catalogue was published.
Izolyator plant continues to actively implement innovative technologies in accordance with the strategy of the Russian energy sector development and global trends in design of modern and efficient power equipment. The most important of these lines of activity of Izolyator is a systematic transition of the high-voltage bushings it makes to solid internal RIN-insulation.
RIN (Resin Impregnated Nonwoven) is a polymer nonwoven fabric, impregnated with epoxy compound followed by curing. It is the most advanced and promising type of internal insulation of high-voltage bushings.
The solid RIN-insulation was developed by the Izolyator design office with a view to qualitatively improving the technical and operational characteristics of the high-voltage bushings produced by the plant. Studies of the electrical and mechanical properties of the new insulation, as well as relevant testing, were successfully carried out at the National Research University 'Moscow Power Engineering Institute'.
The polymer nonwoven material used as the main insulation in such bushings does not contain cellulose, and as a consequence has a low level of water absorption even with intensive exposure to moisture, which virtually eliminates any moistening of insulation.
Operation of bushings with RIN insulation is possible both at extremely low and extremely high temperatures, since this insulation has a high thermal conductivity and a low coefficient of thermal expansion. This leads to a decrease in mechanical stresses in the bushing design elements, which, in turn, ensures high reliability and a long service life of the bushing in a very wide range of operating temperatures.
The RIN-insulation can be used both with porcelain and polymer external insulation.
Izolyator has patented the RIN trademark, mastered and patented an industrial technology for manufacturing this type of insulation.
Izolyator high-voltage bushings with RIN-insulation are certified for compliance with the requirements of GOST R 55187-2012 and are certified by the Rosseti Group for use at the facilities of subsidiaries and affiliates.
The new catalogue contains a list of RIN-insulated transformer and reactor high-voltage bushings, their technical characteristics, a description of the design and technological stages of production, operational features and an explanation of symbols.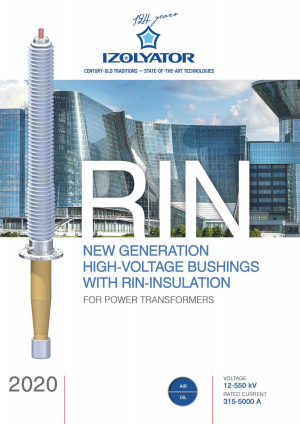 High-voltage RIN bushings for power
transformers Catalogue (
PDF 10.2 MB
)