Talks of SVEL Group and Izolyator Management
On 10 March 2020, SVEL Group and Izolyator management representatives had talks in Ekaterinburg.

SVEL Group is a leading power equipment manufacturer in Russia.

The company boasts one of the impressive growth modernization rates in the industry.

The production of SVEL Group meets the requirements and the highest world standards; аnd also develops new prospective directions under the common brand.
On Izolyator side, CEO at Zavod Izolyator LLC Alexander Slavinsky and Head of OEM Sales Maxim Zagrebin participated at the talks.
At SVEL Group, the guests were received by:
Alexey Kishko, CEO,
Andrey Shmakov, Procurement and Logistics Director,
Anastasia Lavrentieva, Head of Purchasing at SVEL Power Transformers,
Danila Safin, Purchasing manager at SVEL Power Transformers.
The key topic of the meeting was issues of long-term cooperation and strategic planning of cooperation between the two enterprises in view of existing and forecasted trends on the global and Russian electrical products markets.
The partners considered potential joint projects, available resources and effects of achieved targets.
Besides, the sides made analysis of the work progress under current agreements and key aspects of optimal coordination in their realization.
The hosts arranged for a plant tour over SVEL Power Transformers — a new company in the SVEL Group.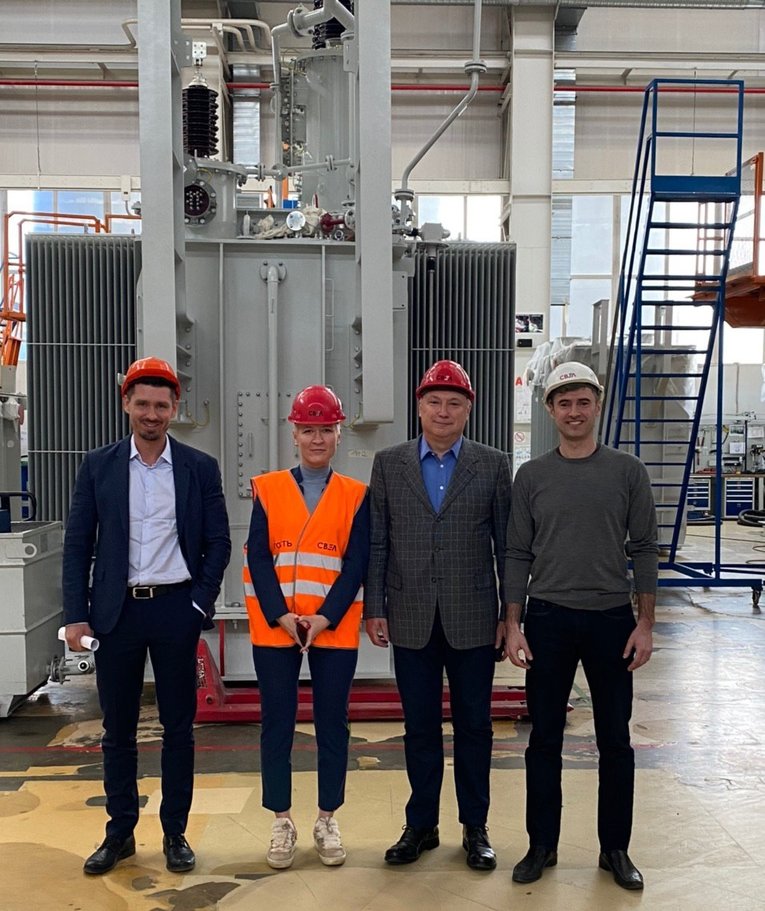 A plant tour over SVEL Power Transformers in Ekaterinburg, L-R: Maxim Zagrebin, Head of Purchasing at SVEL Power Transformers Anastasia Lavrentieva, Alexander Slavinsky and Alexey Kishko, CEO at SVEL Group
The parties appreciated the talks as a very important step towards development of the successful and productive cooperation of SVEL Group and Izolyator plant.