Visit of Specialists of Rosenergoatom Company
On 22 October 2020, specialists of the Russian concern for the production of electrical and thermal energy at nuclear power plants — Rosenergoatom — paid a visit to Izolyator plant.

Rosenergoatom Company is one of the major electric power companies in Russia and the only national enterprise functioning as an operating company (operator) of nuclear power plants.
The Rosenergoatom's primary experise is generation of electrical and thermal energy at its nuclear plants, as well as management of nuclear plants, sources of radiation, nuclear material and radioactive substance storage sites pursuant to the procedure set forth by the legislation of the Russian Federation.
Rosenergoatom Company is a part of the Electric power division of the Rosatom State Corporation.
The Rosenergoatom was represented by Oleg Prorokov, Chief Process Engineer of the Engineering Support Department and Yakov Gorshenin, Chief Specialist of the Procurement Department.
The guests were received by Oleg Bakulin, Director of Partner Relations, and Maxim Zagrebin, Head of OEM Sales.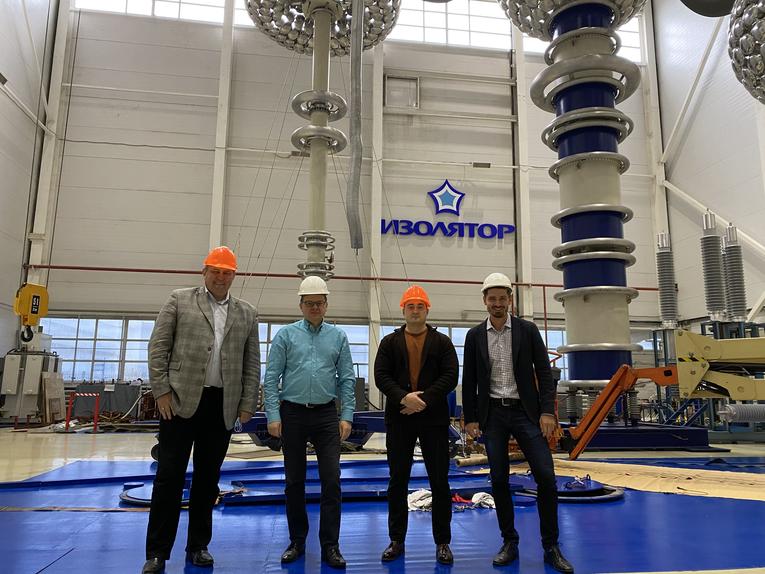 Specialists of Rosenergoatom Company in the test center of Izolyator plant, L-R: Chief Process Engineer of the Engineering Support Department of the Rosenergoatom Oleg Prorokov, Oleg Bakulin, Chief Specialist of the Procurement Department of the Rosenergoatom Yakov Gorshenin and Maxim Zagrebin
The parties discussed a number of topical issues of interaction and planning the development of cooperation in the interests of the most effective implementation of joint projects.
A separate topic of discussion was the advantages and expediency of using new generation high-voltage bushings with internal RIN insulation at nuclear generation facilities.
In the course of an open dialogue, representatives of the concern were able to fully make sure that the schedule for the manufacture of high-voltage bushings for completing shunt reactors manufactured by the Electrozavod Holding Company, intended for delivery to the Rosenergoatom, was fully observed.
During a tour of the plant, the guests got acquainted with all the technological stages of the high-voltage bushings production, paying special attention to the quality of the materials used in the production. Rosenergoatom specialists highly appreciated the technologies and materials used.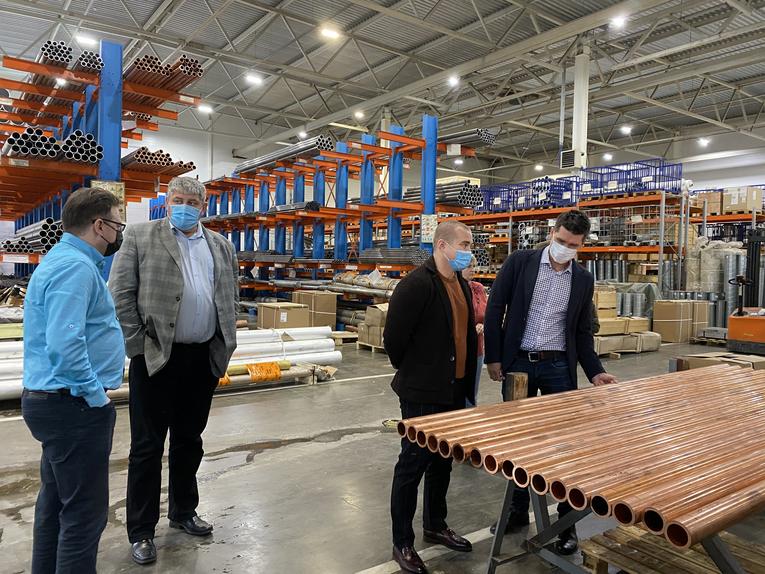 Chief specialists of Rosenergoatom Company at the warehouse of materials and components of Izolyator plant»
At the end of the visit, the parties expressed full satisfaction with the results of the meeting. Izolyator's cooperation with one of the largest energy companies in Russia continues.