Working Meeting With Hübers Representatives
On 19 February 2020, a working meeting with representatives of the German process equipment supplier Hübers took place at Izolyator plant.

Hübers Verfahrenstechnik Maschinenbau GmbH creates technical solutions for casting and impregnation processes requiring maximum precision for electrical engineering and electronics manufacture as well as resins casting makers — from the moment of technological process conception to operation and maintenance of units. Hübers's offering spreads from storage and conveyor systems via mixing and metering units, degassing equipment, pressure and temperature generating units, casting chambers and moulds to dryers and curing systems. The Plant is located in Bocholt, Germany. At the Izolyator plant, Hübers casting equipment is used for epoxy compounds intended for impregnation of the main insulation of high-voltage bushings, as well as for organosilicon compositions intended for casting the external insulation of bushings.
The purpose of the meeting is support of the partners that are using Hübers equipment by rendering services and developing technologies.
Hübers was represented by Dipl-Eng, CIS Project and Sales Engineer Peter Kats and Dipl-Ing, Sales Management Hanno Steinzen.
The guests were received by R&D Director Konstantin Sipilkin, Deputy Chief Process Engineer Svetlana Kryuchkova and Deputy Chief Designer Pavel Kiryukhin.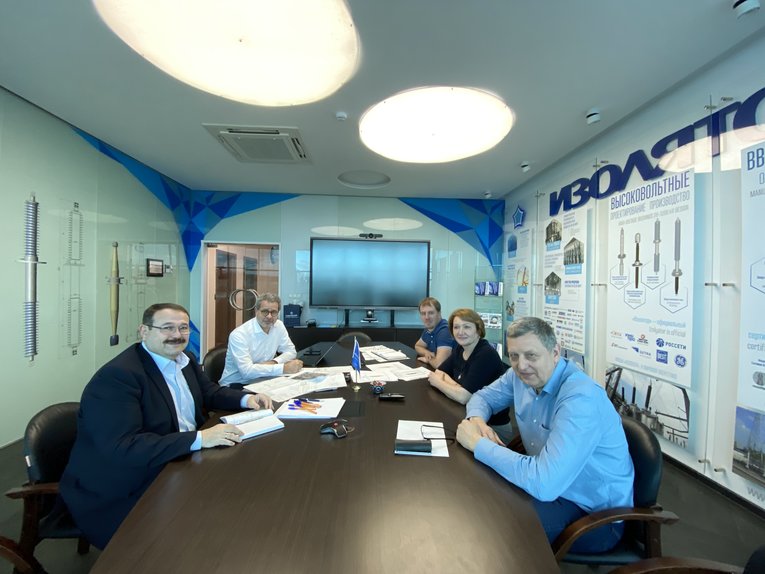 Meeting at Izolyator plant with representatives of process equipment supplier — German company Hübers, L-R: Dipl-Eng, Project and Sales Engineer Peter Kats, Dipl-Ing, Sales Management Hanno Steinzen, Pavel Kiryukhin, Svetlana Kryuchkova and Konstantin Sipilkin
Hübers representatives visited the production facility where they examined the equipment, made and delivered under the order of Izolyator plant.
At the talks, Hübers demonstrated new development and technologies and discussed progress of joint projects and directions of cooperation development.
Hanno Steinzen expressed confidence that such meetings and dialogue promote development of long-term cooperation and strengthen the spirit of partnership.