Direct polymer moulding
The practices were designed by Izolyator Plant Design Office together with partners >> Patents
The main properties of polymer insulation:
fire and explosion safety of bushings;
tracking erosion resistance;
good dirt-proof performance due to good hydrophobic properties of the polymer;
electric strength of dirty insulation by 15-20% higher as compared with porcelaininsulators;
good crashworthiness and seismic stability due to the good elastic properties of the material;
no limitations in terms of the bushing installation angle.
The main advantage of the technology is the immediate application of monolithic polymer insulation without intermediate filling.
The polymer insulation elasticity is based on the organosilicon composites of RTV-2 type.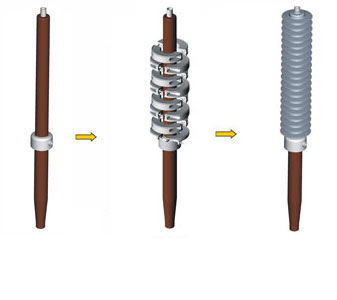 Direct polymer moulding is applied to the solid RIP - or RIN insulation >> design of bushings with polymer insulation
Based on the customer requirements the polymer external insulation is applied as an alternative for the porcelain insulator.